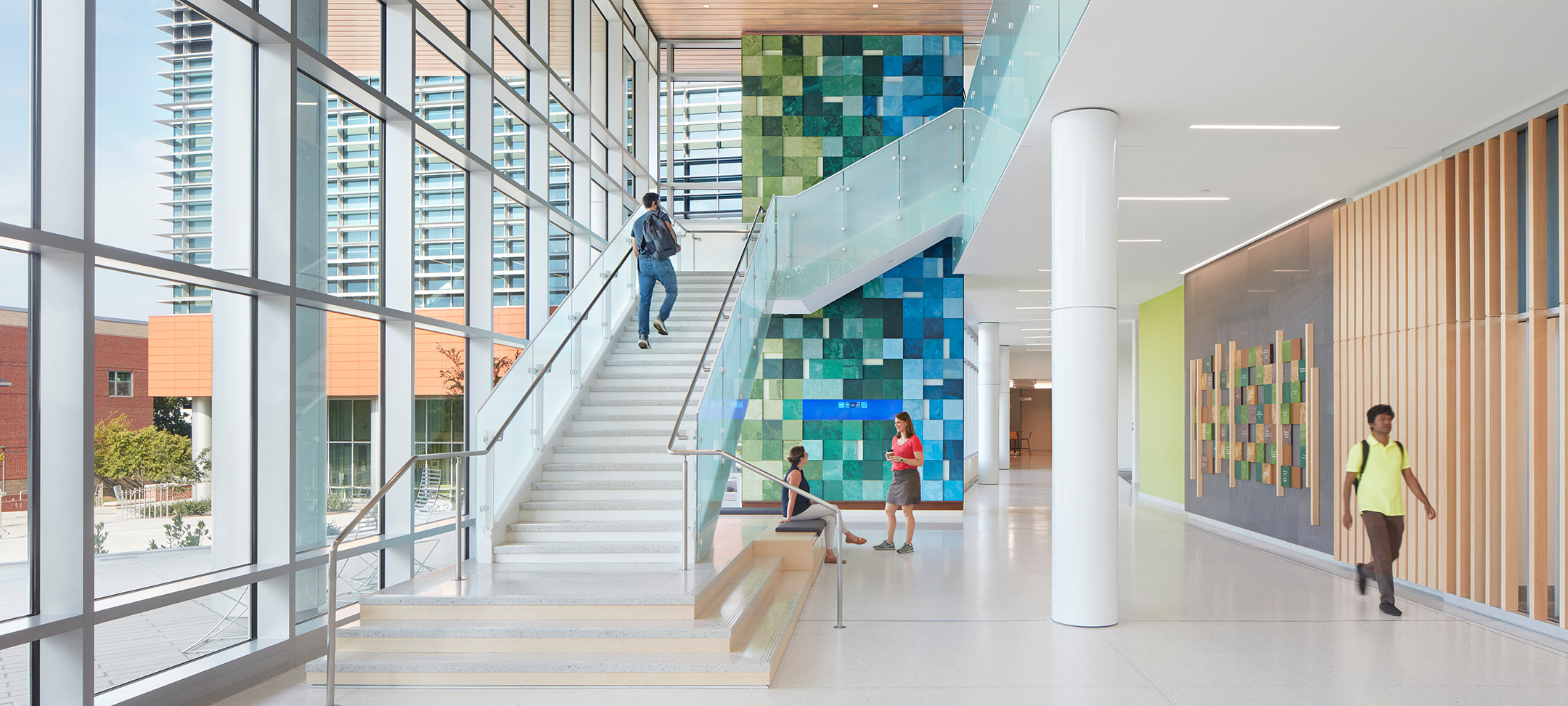 NC State University Plant Sciences Building Achieves LEED Gold Certification
Flad is pleased to celebrate the achievement of LEED Gold certification for the Plant Sciences Building at North Carolina State University. Located on the university's Centennial Campus, this interdisciplinary science hub provides a new home for the North Carolina Plant Sciences Initiative – a massive research program that aims to use plant science innovation to solve some of the world's most pressing grand challenges. The building's modern infrastructure supports the program's dynamic and future-forward trajectory through implementation of energy-reducing systems and materials that have environmentally, economically, and socially preferable life-cycle impacts.
Knowing that the laboratories – and particularly the 10,000 square feet of conditioned rooftop greenhouse space – would be inherently energy intensive, the design team focused on strategies to reduce energy use elsewhere in the facility. A primary contribution comes from application of sophisticated building envelope technologies that improve its performance by 20 percent over energy code requirements, contributing to the facility's level of comfort, natural daylight exposure, ventilation, and energy consumption for heating and cooling.
Other sustainable design features include advanced energy metering, highly efficient lighting and automated window shades, central cooling and cogeneration plants, enhanced airside energy recovery and de-coupled heating and cooling systems. A series of bioretention cells and landscaping capture, treat, and slow runoff from the building during rain events with the reclaimed water repurposed for irrigation and toilet flushing. High-efficiency plumbing fixtures reduce water consumption both indoors and out.
Overall, the facility provides NC State with an energizing, flexible environment that inspires people, connects them to the future of agricultural science, and creates a collaborative scientific workplace – all while reflecting the spirit of the research happening within to enhance conservation and reduce environmental impact.
North Carolina State University

Plant Sciences BuildingNC State Sustainability Blog

Plant Sciences Building Achieves LEED Gold
April 28, 2023