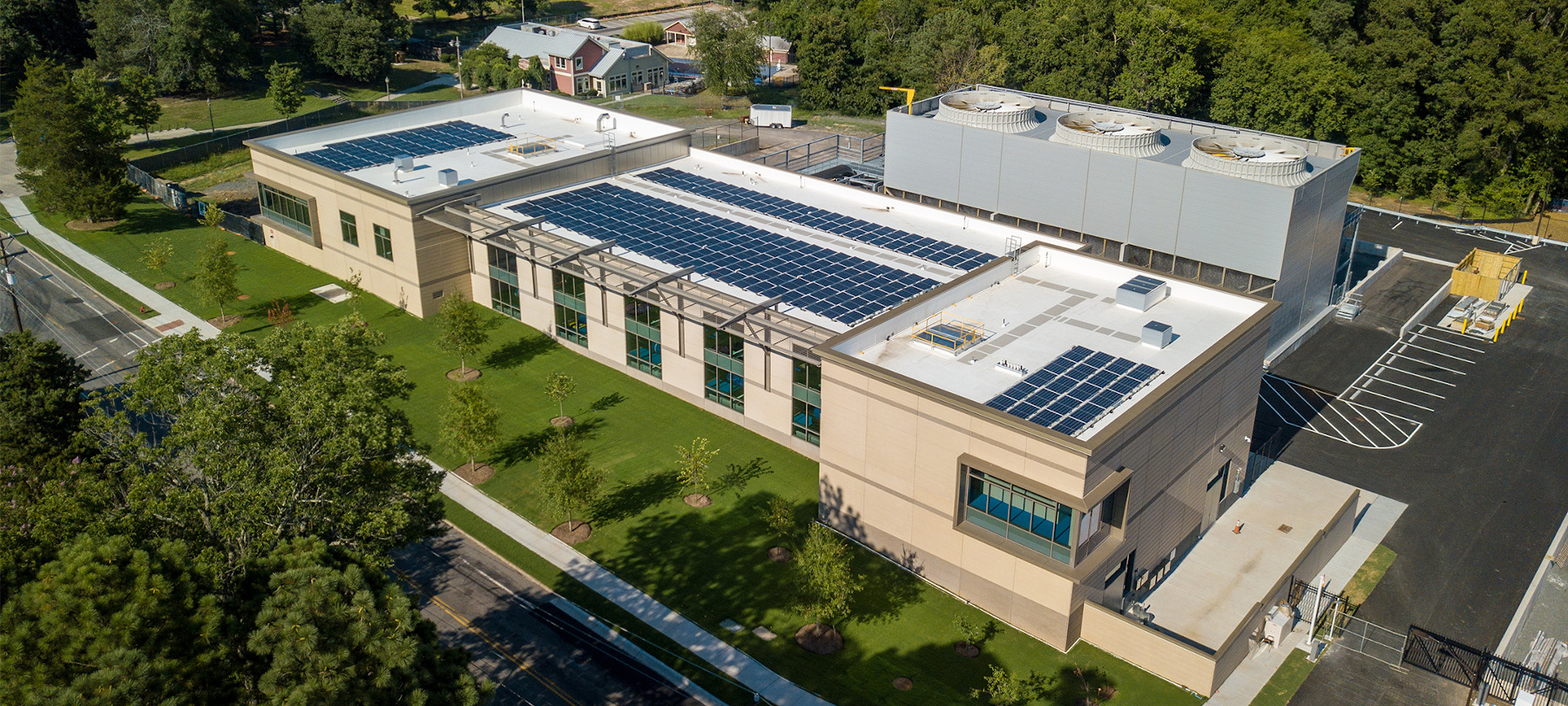 Celebrating a Cooler Future
Duke University Highlights Recent Chiller Plant Project
Flad (in association with Affiliated Engineers, Inc.) is pleased to share a recent article published by Duke University, which highlights the opening of their Chiller Plant No. 3 facility, a collaborative effort between Flad's Raleigh practice and Duke University to meet the aesthetic and functional requirements of the institution at large.
Designed to support the cooling needs of Duke University buildings on campus including Duke University Hospital's new bed tower, Chiller Plant No. 3 boasts two 119,000-pound chillers (with room to spare) and can produce 7,600 tons of cooling power; roughly 2,500 times the cooling capacity of common household central air conditioning units. The space allows for an additional 7,600 tons of cooling power in the future, bringing the plant's full build-out capacity to 15,200 tons.
As the only campus facility featuring rooftop solar panels, Plant No. 3 is designed for enhanced energy efficiency, providing powerful cooling that works in harmony with the other plant facilities through a looped, campus-wide network of pipes. With extensive campus growth and over 12 miles of pipes running throughout the university and hospital buildings, this project will ensure optimal occupant comfort for generations to come.
In addition to enhanced operations, the new facility provides much-needed office space and a state-of-the-art control room, fully equipped with a 20-foot-long video screen – a breath of fresh air for the High Voltage Team of Duke Facilities Management's Energy Management Team. Supervisor Donald Elliot states, "We moved everything over in two days…now that we're here, we love it."
Get a first-hand look

Duke from the Sky: Chiller Plant No. 3Read the full story

Duke TodayDuke University

Chiller Plant No. 3
February 17, 2021