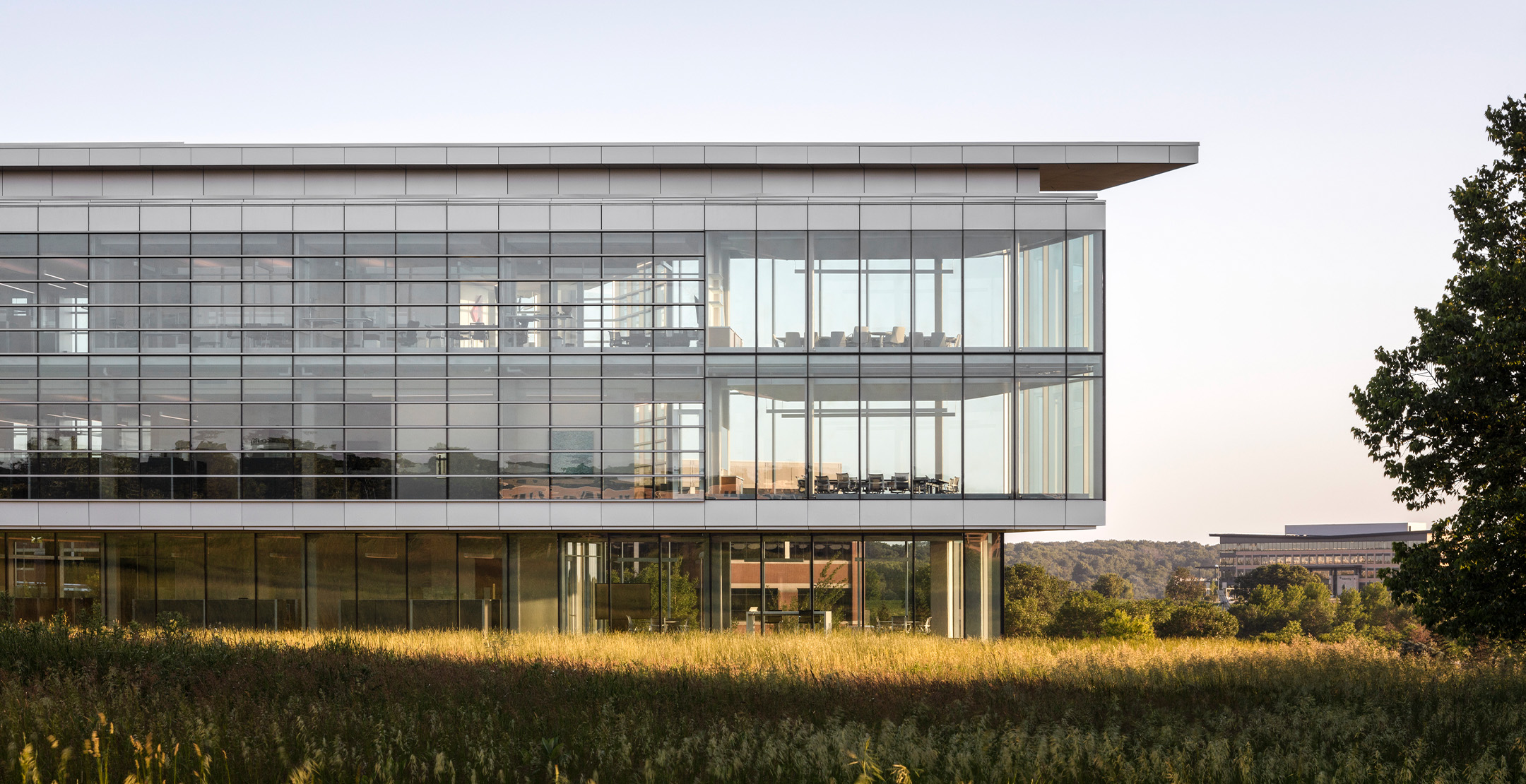 Two Flad Projects Honored with Daily Reporter Awards
Two Flad projects – Ascendium Education Group's new office headquarters and the UW Health Pleasant T. Rowland Transplant Clinic – have been recognized by Daily Reporter with 2022 Top Projects awards. Top Projects is Wisconsin's foremost and comprehensive built environment competition, honoring the best projects over the past year. The program spotlights exceptional projects, highlighting project inspiration, process, and challenges.
Ascendium Education Group, Office Headquarters >
Ascendium Education Group envisioned a new headquarters facility for the nonprofit that would be a physical representation of their values, priorities, and ambitions. The organization needed a place for its employees to come together in pursuit of their mission to make education and training beyond high school a reality for more people.
Situated on top of a hill on a greenfield site, the building is organized to showcase the natural vistas of the site's expansive prairie landscape and beyond to a commanding view of the state capitol in the distance. The narrow and highly transparent structure extends east-west across the sloping site, providing abundant natural daylight throughout the three-story facility; glazing covers close to 80 percent of the building's exterior. This dynamic, LEED Silver certified facility is a stunning example of architectural refinement and modern design, reflecting the organization's aspirational mission to help students overcome barriers and find success.
Learn more about the project

UW Health, Pleasant T. Rowland Transplant Clinic >
With the goal of creating a better and more streamlined experience for everyone involved in the crucial and life-giving process of organ transplantation, UW Health underwent an effort to establish the new Pleasant T. Rowland Transplant Clinic. By expanding the footprint for transplant patient care and consolidating a wide range of transplant services in one convenient location, the project supports growth of this program of distinction for UW Health, enhancing its focus on patient-centered care and furthering its reputation as one of the best transplant centers in the country.
Situated prominently with direct access from the reimagined hospital entry that was designed in conjunction with the clinic, the new transplant clinic consolidates a full spectrum of patient services in one location, alleviating the need for patients to travel to other areas of the hospital. A clean and bright design palette, an interactive art installation that pays tribute to living organ donors, and reflective glass walls help infuse the space with hope and inspiration.
Learn more about the project

Congratulations to our project teams on these award-winning projects.
May 17, 2023