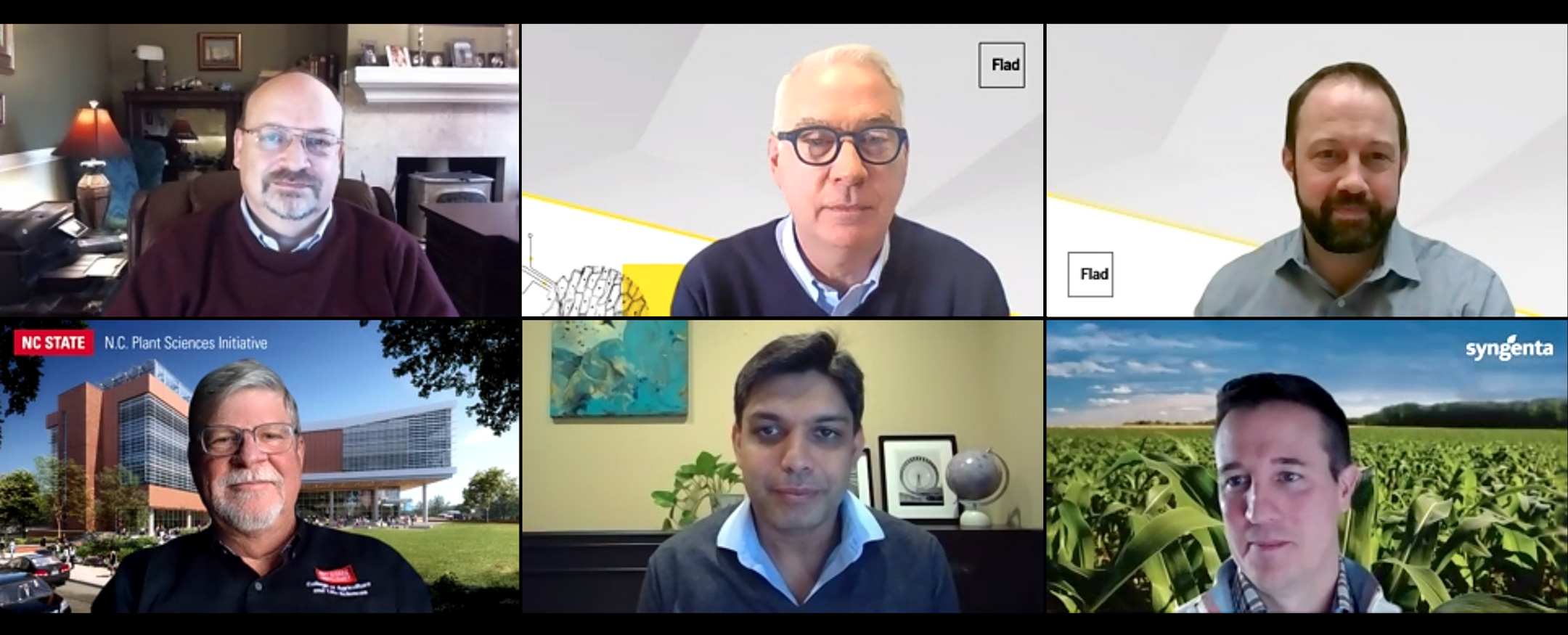 Flad Hosts Inspiring Roundtable Discussion with Industry Thought Leaders
Looking to the Future of Ag Science: Digitalization and Automation
Wednesday, January 20, 2021

View the recording

Data science and analytics, digital technology applications, the emerging advantages of robotics – these ideas and many others dominated a virtual roundtable conversation Flad held on December 8 to explore the future of Ag Science with several industry leaders.
The event was moderated by Chuck Mummert, Principal Designer at Flad, and the panelists included Ranveer Chandra, Chief Scientist at Microsoft Azure Global; Greg Doonan, Head of Advanced Analytics for Seeds Development at Syngenta; Dr. Steven Lommel, Associate Dean for Research in the College of Agriculture and Life Sciences at North Carolina State University; Simon Tripp, Senior Director at TEConomy Partners; and Chad Zuberbuhler, Associate Principal and Laboratory Planner at Flad. As specialists in the planning and design of facilities for bio-agricultural research and education, Flad sought the opportunity to bring together this group of experts for a focused discussion about the ways they each see industry, educational institutions, and growers engaging with digital agriculture now and in the years to come.
Among the topics covered, a common thread quickly emerged that recognized the importance of a multidisciplinary approach to farming. With so many inputs available to the agricultural system – from plant genetics research in the lab, sensors and drones monitoring field conditions, climate and weather analysis, and economic forecasting just to name a few – data and analytics function as the bridge between R&D and grower. Using the information from these sources, a farmer can augment their years of first-hand knowledge with data-driven insights, improving decision-making and removing the guesswork from farming.
The panel continuously built upon this idea, identifying a multitude of benefits to implementing digital agriculture and its possibilities for future advancements such as:
Increased crop yields and resiliency on the existing amount of farmland
Highly targeted application of water, fertilizer, pesticides, and other resources resulting in reduced costs, waste, and environmental impact
Wider implementation of increasingly sustainable practices as farms connect digitally to share and interpret data
Addressing production loss due to labor access issues through use of robotics and automation in the field
And, ultimately, a collective focus on solving the grand challenges of feeding an expanding world population in a sustainable manner.
We would like to express our gratitude to the panelists for sharing their time, insights, and deep enthusiasm for this topic with Flad and our event attendees. Their collective vision of how big data and automation are transforming agricultural technologies and their application is overwhelmingly hopeful and infused with excitement. The opportunity at hand is enormous – to apply these digital tools in new ways that tackle the grand challenges of our time and make a real impact at a global scale. Our imagination is the only limit in how we use this data and build toward the next Green Revolution.