The Beauty of Benchmarking


In the age of technology revolution, data-driven design is all the rage. Evolving the metrics to accommodate the changing ways we work, learn, discover, and provide care are critical to decision making. We leverage our collective knowledge across projects and industries to provide an in-depth, interdisciplinary analysis of space standards, using a data-driven process to categorize, measure, and compare attributes of our physical spaces to inform best practices and make recommendations.
While Flad has been conducting benchmarking for years, we recognized a growing need to coordinate benchmarking data across all building types and sectors to accommodate our clients' evolving space types and building needs. To gain consensus across multiple offices and market sectors, we facilitated several internal workshops among stakeholders to define space categories across all project types. Interestingly, the groups found many overlapping space categories between all sectors. For example, we avoided as many lab-only, teaching-only, or patient care-only spaces as possible, and instead focused on the function and design of a space.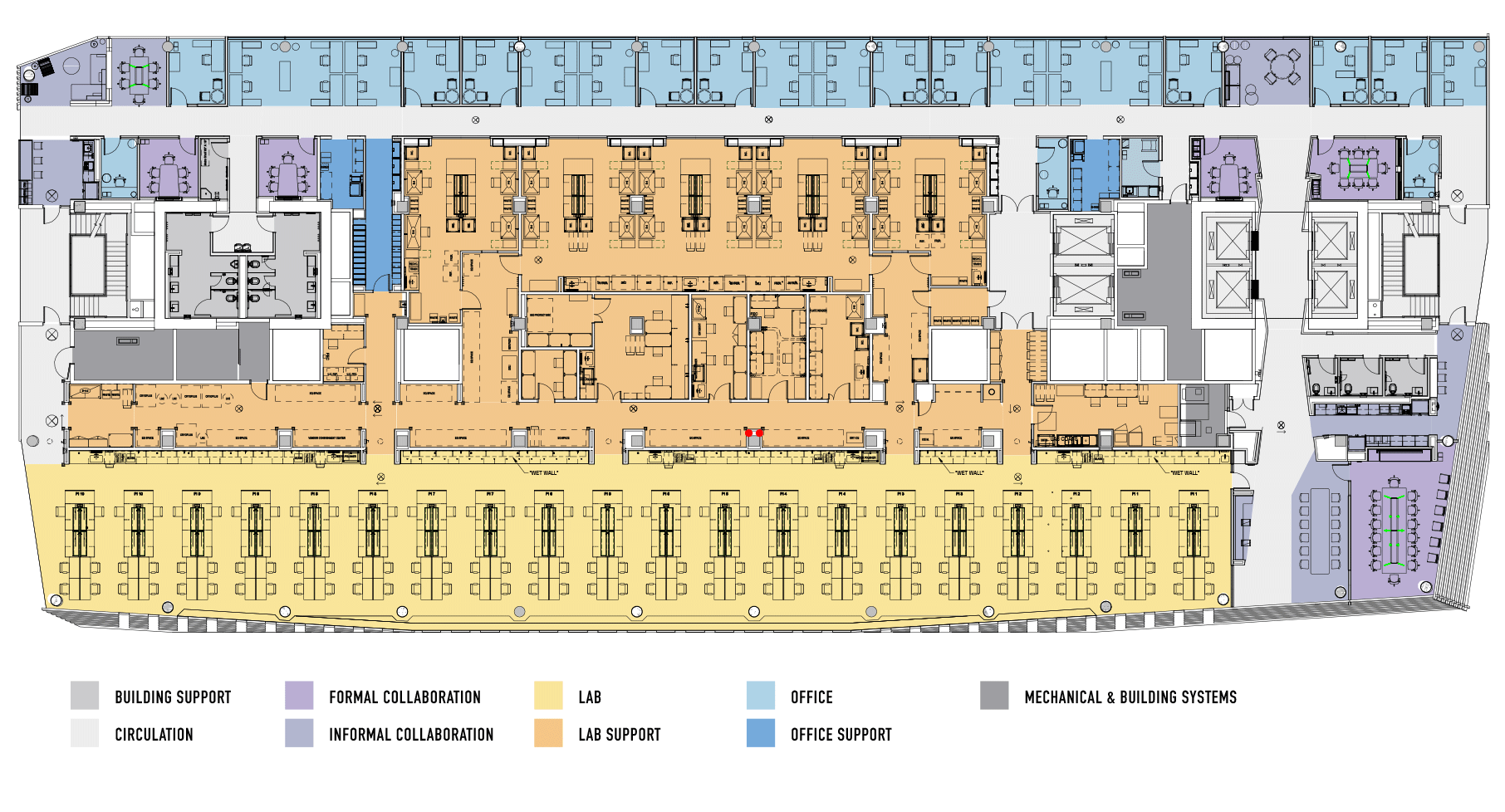 Once the space categories were defined, we identified key metrics based on the types of data our planners and clients need to inform space designs. Finally, we researched and compared methods of measuring spaces to identify consistent approaches to measuring gross and net square footage to ensure spaces can be compared across projects, building types, and sectors. With these new benchmarking definitions and standards, we have developed a robust database of space benchmarks for use by the entire firm and our clients.
The benchmarking database was designed to capture our agreed-upon space types and metrics to be leveraged by others in the firm. Once the data has been vetted, it is fed into a data analytics tool where we have created a dashboard of metrics that our teams can bring up with the tap of a finger. This user-friendly interface allows anyone in the firm to apply this information to their project in near real-time – whether they want to know the average square footage of a patient room or an average number of seats in a lecture hall – this tool provides comprehensive metrics from a vast history of projects. The combination of our industry knowledge, benchmarking capabilities, and analytics infrastructure fuels data-driven decision making and helps our teams fully understand the context and requirements of the spaces being designed.