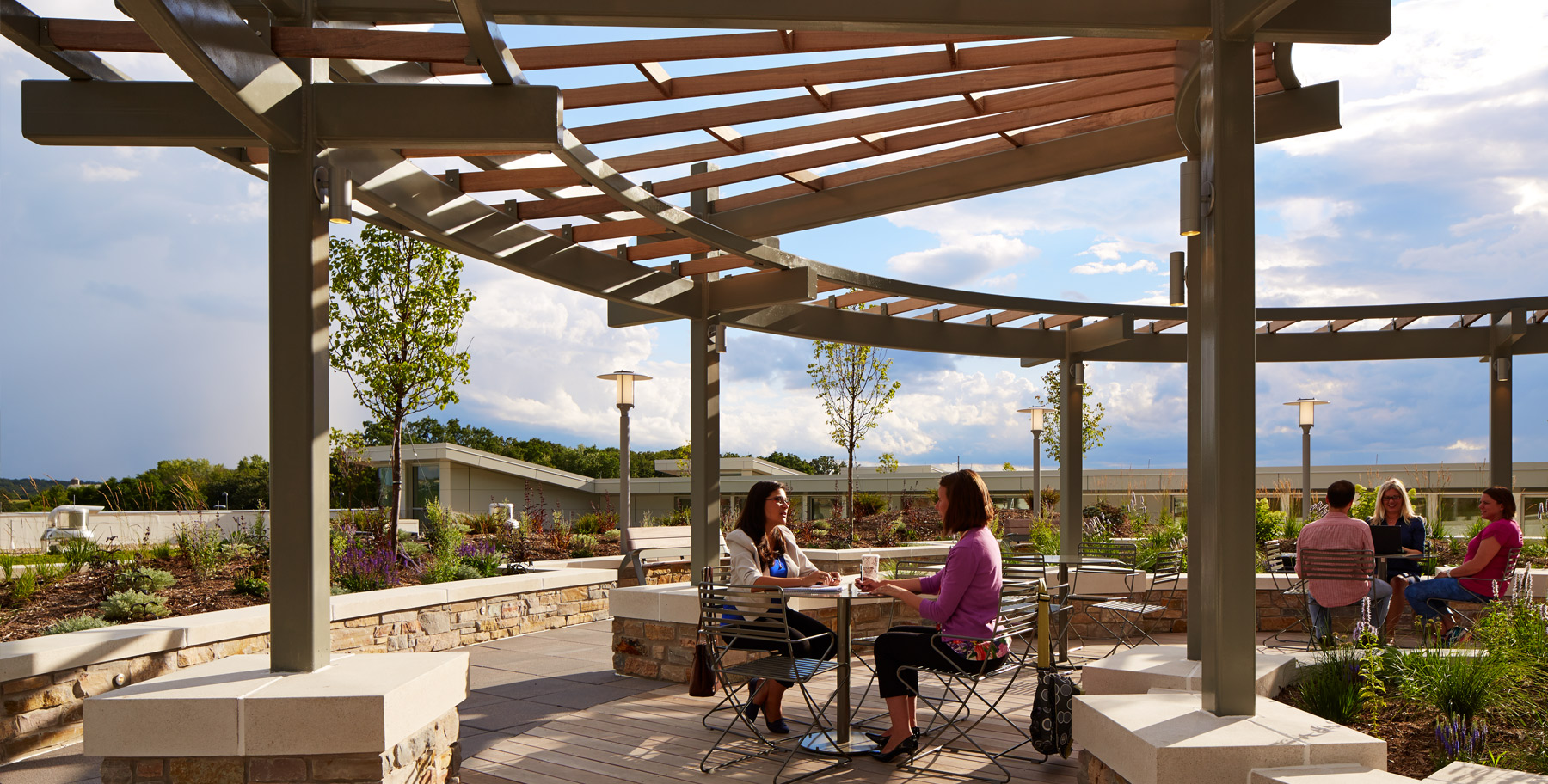 UW Health at the American Center wins Sustainability Award
An Award of Merit bestowed in the Innovative Design, New Construction category of the 2017 USGBC Wisconsin Leader Awards demonstrates that UW Health at The American Center more than met the team's goals for sustainability. Designed in pursuit of LEED Gold certification under the USGBC's healthcare rating system, the 505,408-square-foot University of Wisconsin Health satellite hospital has delivered measured performance in energy and water use while still providing quality care and without major budget, schedule, or operational impacts.
UW Health at The American Center consolidates orthopedic services while providing a host of core ambulatory and clinic services. During schematic design, Flad held two major sustainability charrettes with stakeholders and the design and construction team where comprehensive goals were discussed. Several follow-up meetings focusing on specific coordination challenges occurred over the multiyear design process. These coordination items included using chilled water-cooled sterilizers rather than open-loop cooling solutions traditionally found in healthcare facilities, which led to savings of more than one million gallons of potable water.
Beyond such water efficiency measures, which in total reduced potable water consumption by more than 50 percent, Flad also instituted transportation demand management to support Madison's goal of reducing air emissions by 40 percent by 2030; site stewardship approaches to reverse ground and surface water degradation; energy efficiency measures to reduce building energy consumption by more than 30 percent; and waste reduction in the form of diversion of more than 75 percent of construction waste from landfills, selection of non-toxic, environmentally safe products, and specification of recycled post-consumer and medical products.
Hospitals and clinics are by their nature energy, water, and chemical intense facilities because of the need to maintain a sterile environment to enhance patient outcomes. But the award-winning UW Health at The American Center shows that thoughtful early design and sound construction methods, supported by an owner who wants sustainability to succeed, can make for an impactful project.
UW Health

East Madison Hospital
February 10, 2017