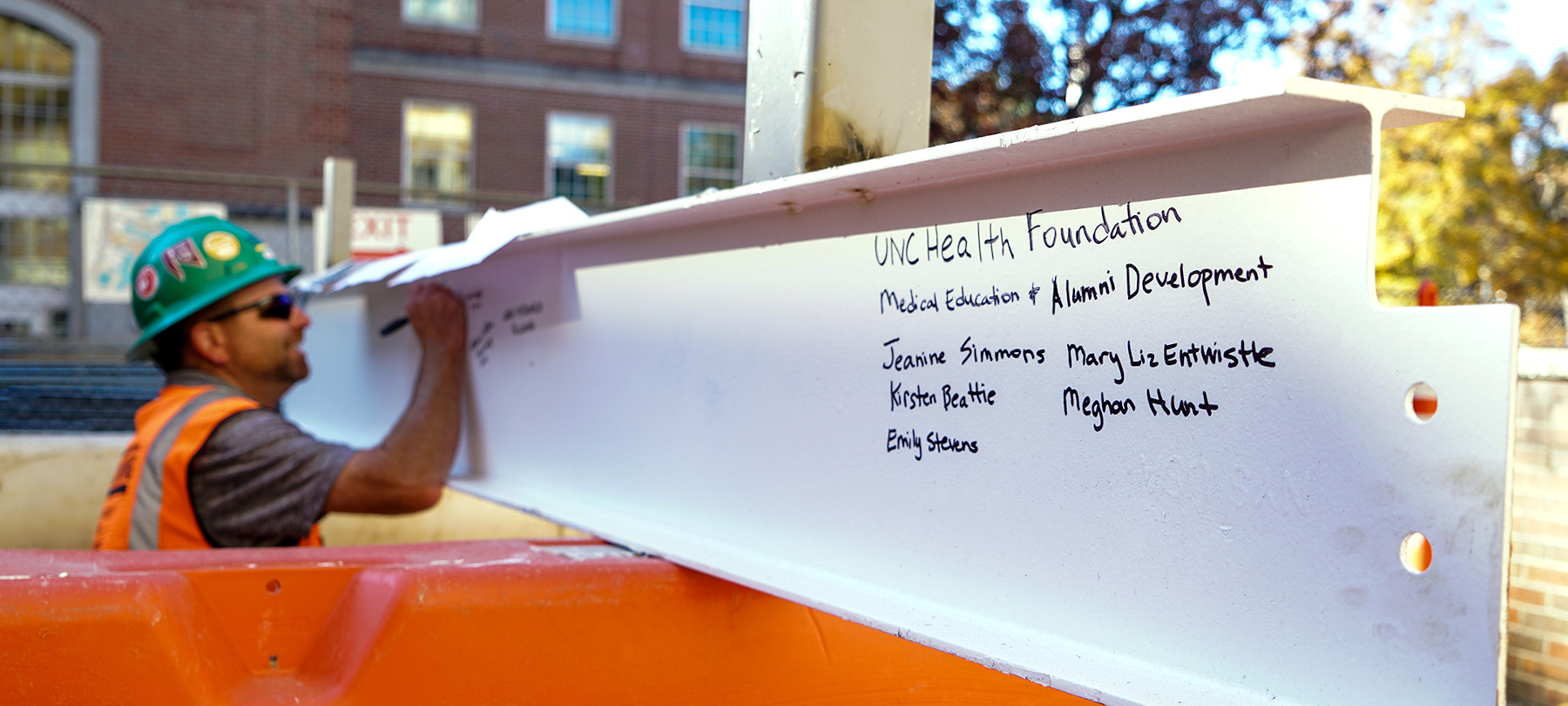 UNC Medical School Celebrates Construction Milestone
The University of North Carolina's new medical education building reached a major milestone in November 2021, when a topping-out event celebrated placement of the final structural beam of the new nine-story, 175,000-square-foot facility. During the ceremony, attendees learned that the new building will be named Roper Hall in honor of former Dean, Bill Roper, who was instrumental in securing support for its design and construction.
"Flad and the entire design team is thrilled to be part of the Roper Hall medical education building project," said Flad project manager John Stevermer, who spoke at the ceremony on the firm's behalf. "The building includes the latest technology for medical simulation and telemedicine, in addition to classrooms and gathering spaces that are designed to facilitate collaboration and interdisciplinary learning."
Located on the site of the former medical school and designed with a 50-year vision, Roper Hall will become the heart of the medical education experience on campus. It will help meet the state's growing demand for medical care, allowing the medical school to accommodate 30 percent more students on site while also serving students at satellite campuses in Asheville, Charlotte, and Wilmington with sophisticated distance learning technology.
Due to the site's central location and 25 feet of elevation difference from one side to the other, the Flad team designed the building to welcome occupants on two levels, with connections provided via interior and exterior grand stairs. Inside Roper Hall, the student-centric environment will include flexible classrooms and teaching laboratories that promote evidence-based learning strategies within small groups and teams. The program also features 25,000 net square feet of immersive and experiential learning spaces including simulation and clinical skills suites, flex labs, and virtual visualization labs.
Flad's early work on the project included programming, site analysis, and conceptual design options for the complicated and dense site. The firm was then chosen to serve as the architect of record and is providing shell and core design, interior design, site design, and construction administration. Roper Hall is designed to attain LEED Silver certification and occupancy is anticipated in 2023.
University of North Carolina

School of Medicine, Roper Hall
December 22, 2021