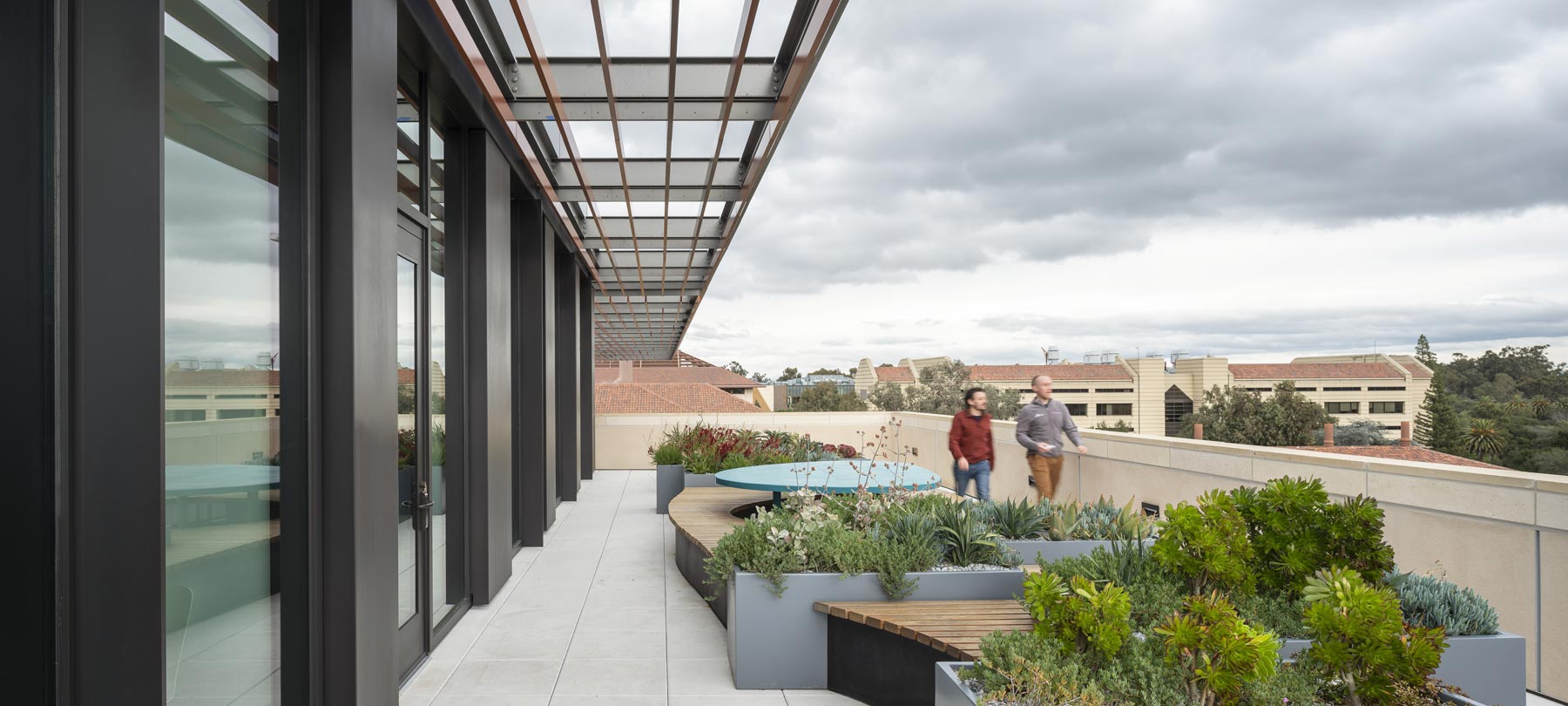 Bass Biology Research Building Dedicated at Stanford University
Formal dedication of the Anne T. and Robert M. Bass Biology Research Building gives Stanford University a facility designed to help brilliant minds in the life sciences unlock the secrets of biology. Addressing the department's grand challenges – societal needs in energy, agriculture, medicine, and industry; unraveling the workings of the brain; and understanding how diverse living organisms adapt to environmental change – the Bass Biology Research Building is poised to set a new standard for scientific discovery in the 21st century.
The cornerstone of Stanford's new precinct, which connects with the School of Medicine via Discovery Walk, the building sits in close proximity to departments such as computer science, statistics, and engineering, helping promote collaboration and interactions among faculty and students from different academic disciplines. Within the building, experts in ecology and evolution work next to molecular and cellular biologists in communal spaces that promote both intellectual and social interactions.
Designed in partnership with Ennead Architects, the five-story, 132,000-square-foot Bass Biology Building comprises wet labs for hands-on research and computational (dry) labs, bridged by hybrid research spaces combining both lab types. The limestone-clad, two-wing structure is connected by an enclosed bridge on the upper floors.
By integrating experiential and interactive art, the facility uses storytelling to openly share ongoing research and actively engage with the wider campus community. A two-story interactive "media mesh," visible from Campus Drive and the medical school, displays biology-themed abstract images that are controllable through a touch-screen interface near the building's entrance. The first-floor lobby and entranceway also feature an art installation called "Pacific Cadence," providing a visual campus presence for Hopkins Marine Station, which is affiliated with the Biology Department. "Pacific Cadence" is made up of photographic collages of the ocean's surface that are seamlessly knitted together to give a sense of the complex nature of the Pacific Ocean.
The building supports Stanford's long-range vision to create a dedicated science precinct that reflects a linked system animated by place-making and reflecting biological networks that define the work of the department. Positioned as a new gateway for the precinct, Bass Biology's transparent nature unifies interior and exterior experiences, while putting science on display.
Read about the Bass Biology Research Building in Stanford News

Stanford University

Bass Biology Research Building
May 15, 2019