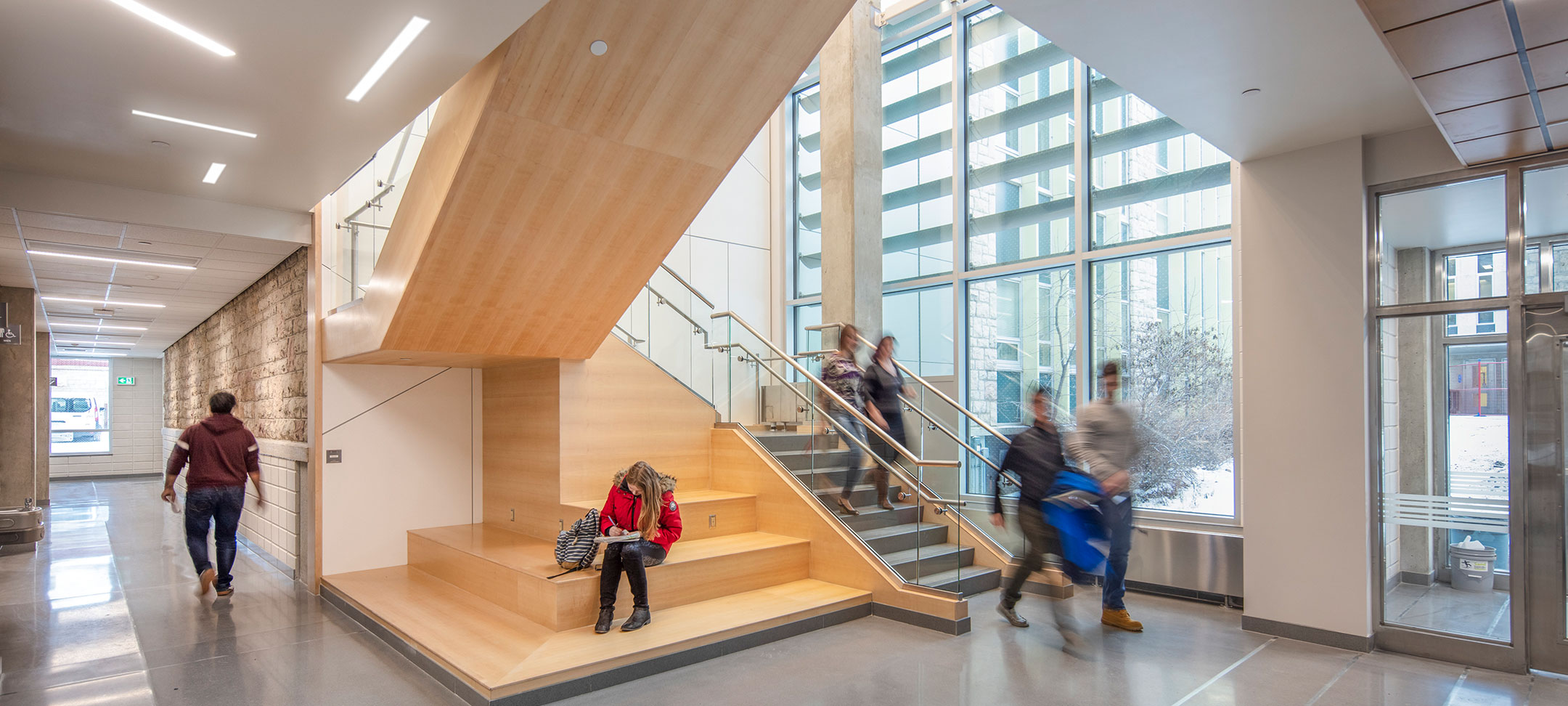 University of Saskatchewan Honored for Integrated Design Excellence
Held in conjunction with The Design Council of Saskatchewan's biennial event, Saskatchewan Design Week, the Premier's Awards of Excellence in Design highlights outstanding professionals and applied design work completed within the province. Its jury of design professionals reviews entries to the competition based on specific criteria relevant to seven categories.
This year's Honourable Mention in the Integrated Design category – which demonstrates significant involvement of two or more member associations throughout the course of the project – was awarded to the University of Saskatchewan Collaborative Science Research Building (CSRB), a collaboration among Flad Architects, Henry Downing Architects, P. Machibroda Engineering Ltd., Crosby Hanna and Associates, WSP, Stantec, PWA Engineering, Integrated Designs Inc., RWDI, and Wright Construction Western.
The new, 72,118-square-foot collaborative research facility resides in the heart of the university's life and natural sciences precinct, supporting interdisciplinary research and flexible growth environments for a wide range of research types and scientific collaborations. Featuring flexible laboratory space and rooftop greenhouses, the facility's design focuses on an integrated research environment that fosters innovation and discovery. The exterior design reflects the modern expression of a technologically-driven program while complementing the collegiate gothic campus. The strategic integration of interior programmatic and design elements with the building exterior creates a collaborative platform that helps advance the university's mission to be a leader in academic science research.
In addition to receiving Honourable Mention in Integrated Design, the CSRB has achieved Two Green Globes certification for demonstrating significant reduction in environmental impacts by applying sustainable design and environmental efficiency practices.
The CSRB represents a collective effort of exceptional design professionals working in tandem with the university toward a shared goal. "This project was a great example of what we can all accomplish when good team members come together with open and transparent collaboration," said Chris Doka, chief operating officer of Wright Construction Western.
University of Saskatchewan

Collaborative Science Research Building
December 18, 2019