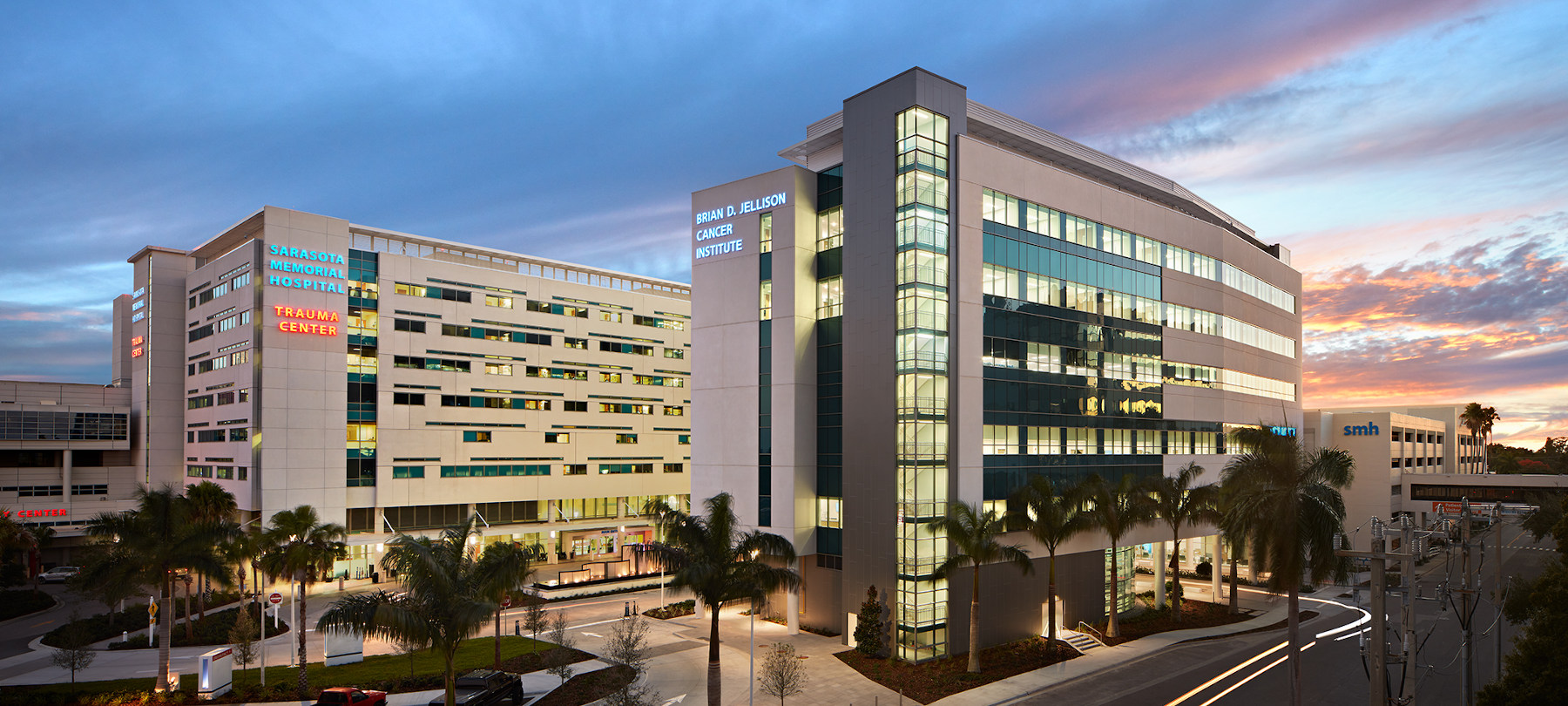 Sarasota Memorial Opens New Oncology Tower
Sarasota Memorial's latest addition to its Brian D. Jellison Cancer Institute, a new, eight-story inpatient and surgical Oncology Tower elevates and expands cancer treatment in Southwest Florida. Designed with input from staff, patients, and physicians, the facility features 56 private suites for hospitalized cancer patients and nine leading-edge operating rooms – three of which feature the latest da Vinci Surgical System robots. The tower provides the full continuum of modern cancer care – including diagnosis, intervention, and survivorship care – all in one building. At the heart of the institute is a multidisciplinary cancer conference space where surgeons, oncologists, radiologists, pathologists, and nursing and pharmacy staff can gather to discuss cases, collaborate on treatment courses, and cross-train staff.
Flad designed the tower to focus on patient and family comfort and wellness. A dedicated entrance with a bright, open lobby and registration area with valet services welcomes patients into the space. Thoughtfully selected design details, art, furniture, and colors continue throughout the tower and echo the soothing, healing, and welcoming environment for which Sarasota Memorial Health Care System is known. Special touches throughout the facility such as Family Centers with kitchen and lounge space on each patient floor and a rooftop café and juice bar offer respite and health-focused amenities for patients' loved ones.
This project represents the second phase of the Brian D. Jellison Cancer Institute. The first phase, also designed by Flad, was Sarasota Memorial's freestanding Radiation Oncology Center which opened in 2020. The next phase of growth for the Cancer Institute will be outpatient cancer care centers.
Sarasota Memorial Hospital

Oncology Inpatient and Surgical Tower
March 15, 2022