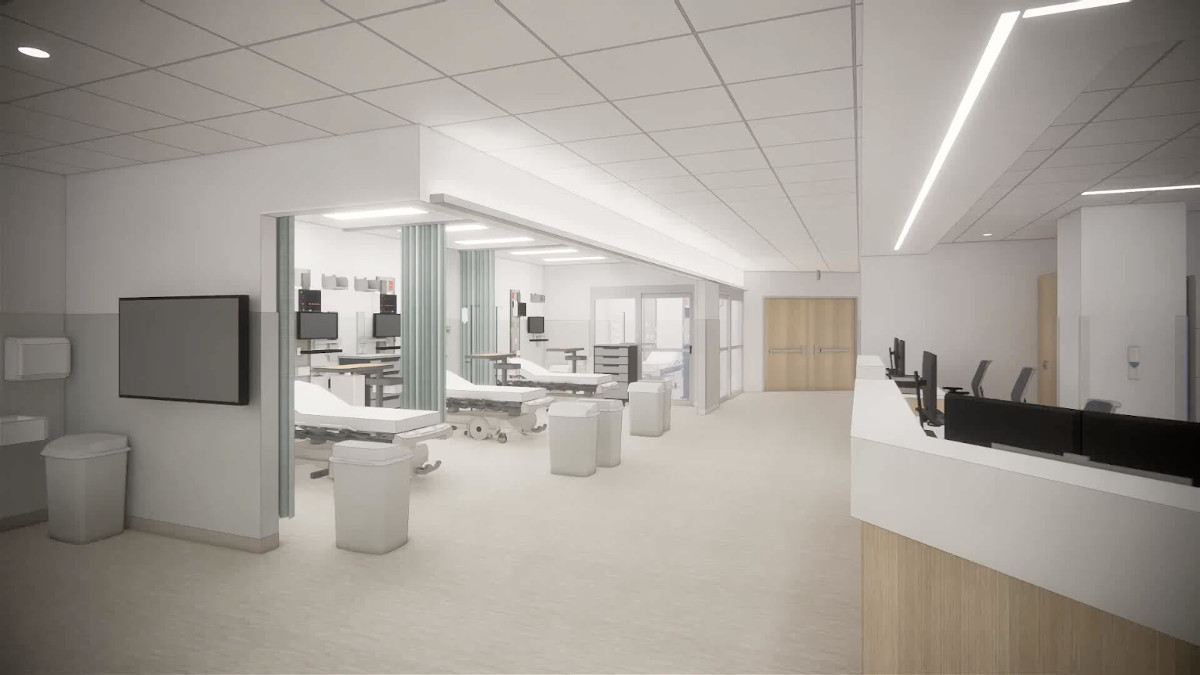 Immersive VR Experience Aids New Hospital Design
Sarasota Memorial Hospital (SMH) staff and leadership recently gathered for a special, immersive virtual reality (VR) presentation of their new hospital campus, currently under construction in Venice, Florida. For the event, Flad developed a 3D mock-up of several patient rooms and procedural areas (including exam rooms, intensive care unit, medical surgery, post-anesthesia care unit, pre-operative holding area, ER treatment bay, preparation/recovery bay, and labor and delivery unit) in order for SMH to experience and evaluate the future spaces.
Fabricated room mock-ups are common in healthcare design due to the complexity and high stakes of hospital environments. They provide a unique opportunity to assess whether planned vital life support systems and hospital infrastructure will function as efficiently and effectively as possible. As physical mock-ups have become increasingly time-consuming and costly, the innovative VR platform allows nurses, physicians, and project team leaders to experience the logistics of patient care in real-time, 3D computer-generated hospital settings and offer immediate feedback.
Flad Principal Steve Jackson explains, "Before our clients spend the money to build the actual room or physical mock-up, this technology allows us to build it for them in the virtual world. VR allows them to experience the space in an immersive way and offer us a meticulous critique. We can then fine-tune details that can save physician and staff time, as well as increase efficiency of patient care. This is critical for situations where time is of the essence, for example, in the operating room where seconds matter."
The event opened with a brief demonstration and explanation of how to explore the immersive tour, followed by staff donning VR headsets and virtually navigating the rooms, with visuals also showing on screen. After getting a first look at the space, SMH-Venice Chief Nursing Officer Jean Lucas said, "It's one thing when you look at the blueprints and [architectural animations] on screen, but to put the actual headset on and be able to walk through the rooms and the hallway and see things as you would see them as a clinician, or as a patient or family member, was really exciting. We're so excited to finally be able to see it come to fruition and provide this for our community."
SMH-Venice is on track to open in fall 2021 and will feature 100 private patient rooms, a 28-treatment-room emergency care center, eight surgical suites designed to accommodate robotic surgical equipment, and a family-friendly obstetrics unit with ten private LDRP suites and two C-section operating room suites.
Sarasota Memorial Health Care System

Sarasota Memorial Hospital - Venice
in the news
March 12, 2020