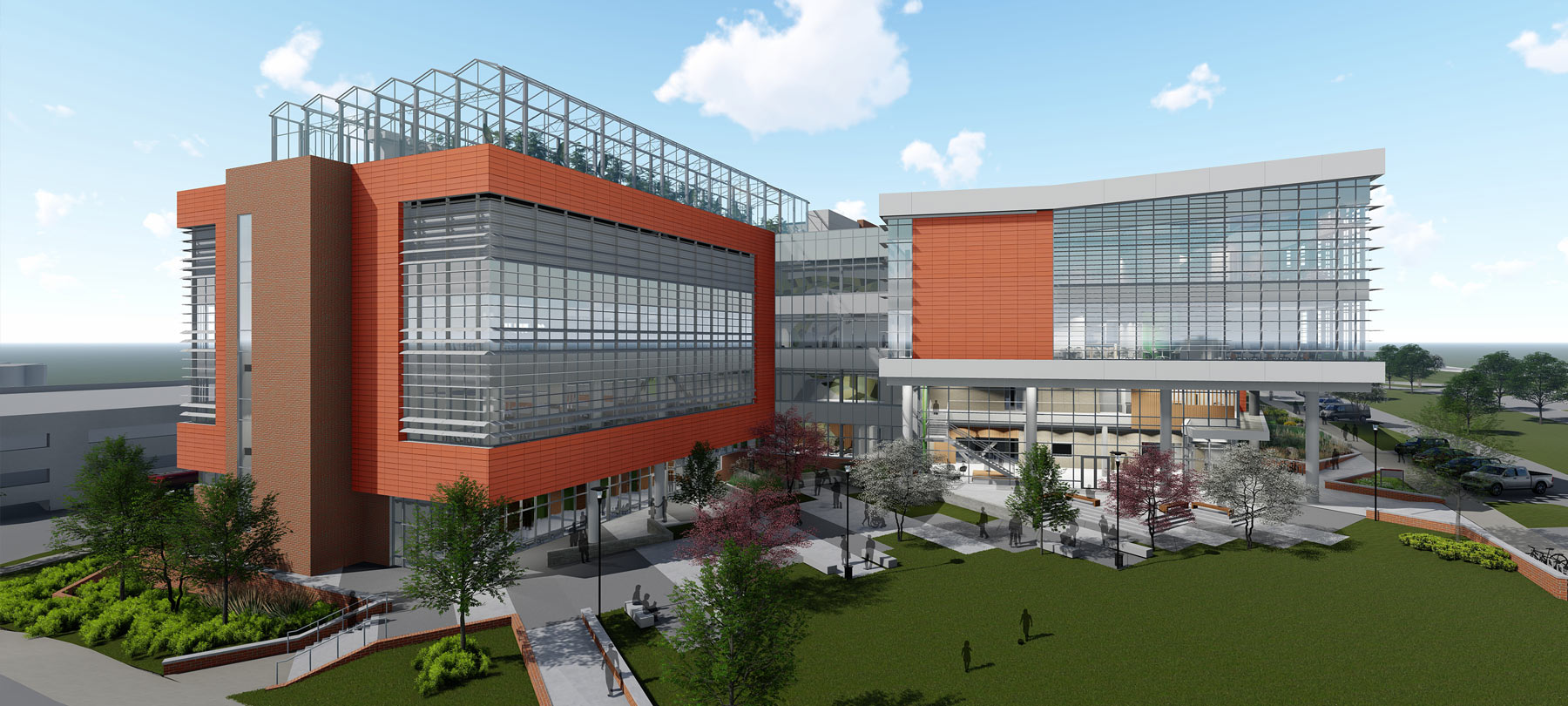 NC State Project Getting Attention as Construction Approaches
Dubbed the "most overt sign of change" on the North Carolina State University campus as the institution expands its interdisciplinary approach to plant sciences, Flad's NC State Plant Sciences Building makes a high-profile appearance in a recent issue of the Raleigh News & Observer. "NC State wants to help feed the world. Here's how the college plans to make it happen," by Brian Murphy, paints a sobering picture of the challenges ahead for plant scientists as the global population reaches and exceeds ten billion, and a hopeful portrait of N.C. State's College of Agriculture and Life Sciences as it seeks to meet those challenges.
The five-story, $160.2 million NC State Plant Sciences Building design features a highly collaborative, interactive environment that will allow the university to bring together academic, government, and industry researchers to find solutions for some of the most pressing agricultural problems of the day. Space in the roughly 184,000-square-foot building was developed around future scientific projects and capabilities, rather than specific investigators. A "neighborhood" concept organizes the office area into zones, providing an array of spaces specific to the needs of different work activities, from large conference space for team meetings to small, enclosed huddle rooms for quiet thinking. Robust research spaces serve as a resource for all building occupants and include growth chambers and environmental rooms, as well as anchor laboratories for genotyping, spectrometry, transformation/tissue culture, metabolomics, ag-bio engineering, and chemical and soils analysis.
"The timeline is very thin and very short," Richard Linton, the dean of the College of Agriculture and Life Sciences, told the paper. "That's why we're working as hard as we can to make smart decisions about bringing these disciplines together so we can come up with solutions faster than we ever have before."
A groundbreaking ceremony for the building is set for Sept. 6, with a targeted fall 2021 opening.
The News & Observer's full story can be read here.
North Carolina State University

Plant Sciences Building
April 21, 2019