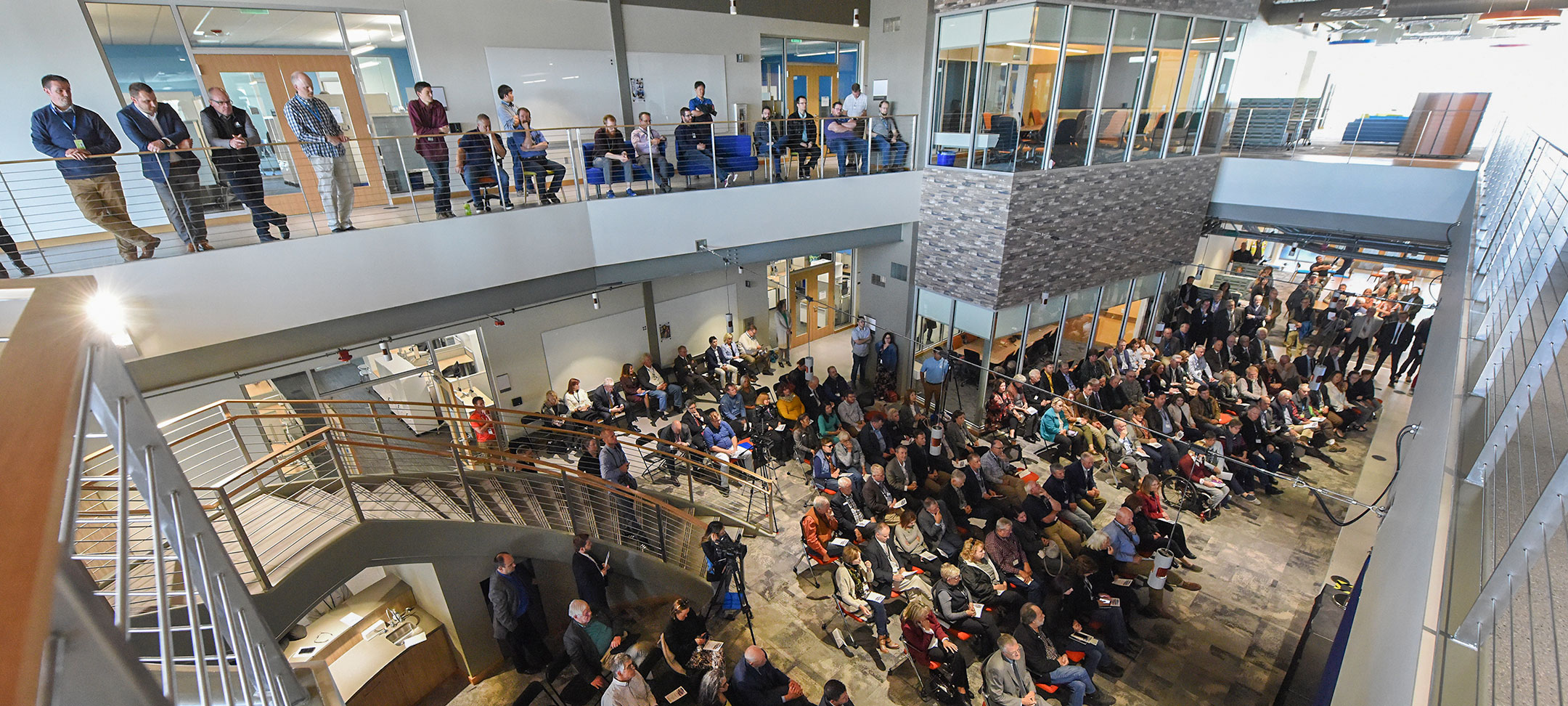 Two Cyber-Research Buildings Open at INL
Eighteen months after a dual groundbreaking, a ribbon-cutting was held to celebrate the opening of both the Collaborative Computing Center (known colloquially as C3) and Cybercore Integration Center on the campus of Idaho National Laboratory. Located less than 1,000 feet from each other, the C3 and Cybercore Integration Center are each designed to support the work of between 200 and 225 people. Together, they bolster the INL's important computational research capabilities and advance control systems cybersecurity.
The C3 is a high-performance computing environment, a place where INL researchers, Idaho universities, and industry explore computer modeling and simulation to develop new nuclear materials, advance nuclear energy concepts and conduct a broad range of scientific research. The Cybercore Integration Center, meanwhile, focuses on bringing together the laboratory's diverse portfolio of research that is increasing the resiliency of the computer control systems operating the nation's critical infrastructures.
Each of the buildings provides the campus with a sleek, modern appearance, and the interiors are marked by a modular design approach. The 67,000-square-foot C3 is laid out using standardized pods featuring furniture on casters and relocatable utilities, allowing for flexibility and reconfigurability. Measuring roughly 36 by 40 feet apiece, each pod supports 12 to 15 people and opens onto a shared two-story space, further encouraging collaboration. The 80,000-square-foot Cybercore Integration Center provides 21 individual lab spaces – reconfigurable, flexible, modular electronics labs that can each individually serve a self-contained research project – with surrounding offices that support those research activities. Each lab space's stand-alone utility supply and acoustical treatment allows it to operate independently from adjacent labs, an important aspect in a building devoted to the work of clients ranging from state, federal, municipal, and private entities.
Through a partnership between the INL and the Idaho State Board of Education, the two facilities promote collaborative research and educational activities between the lab and Idaho's universities. Both connect to Boise State University, the University of Idaho, and Idaho State University via the Idaho Regional Optical Network (IRON), an ultra-high-speed fiber-optic network. IRON allows Idaho students the chance to develop modeling, simulation, and cybersecurity skills and work on research projects either on site or from their individual campuses.
Idaho National Laboratory

Cybercore Integration CenterIdaho National Laboratory

Collaborative Computing Center
October 15, 2019