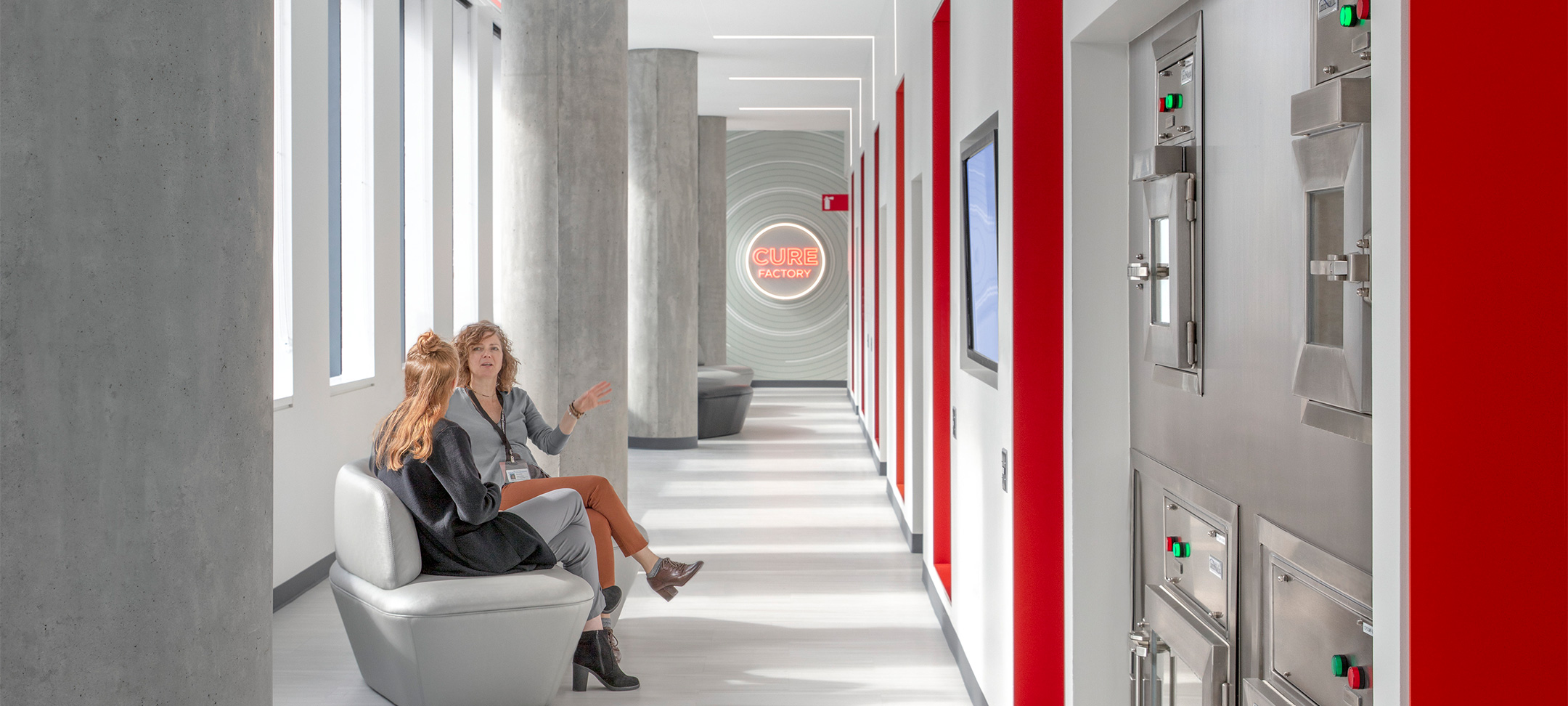 Flad Projects Honored with 2020 IIDA Northern Pacific INawards
Two of Flad's recently completed projects in the Pacific Northwest have been recognized by the IIDA Northern Pacific chapter with INawards for interior design excellence.
Seattle Children's Research Institute's Building Cure is the INhealthcare category winner, celebrating its transformational workplace environment that offers daylight, views, and color to enhance the comfort and performance of researchers and staff who are determined to eliminate pediatric disease. Relying on optics to enable discovery, these scientists are surrounded by light, color, texture, and pattern that provide inspiration in their daily work. Connecting with and educating the community about science is equally important, highlighted by spaces for life science engagement that tell the story of Seattle Children's. The highlight of the building is the Cure Factory which offers views into the hyper-clean laboratories where individualized cell-based therapies are created for children around the country.
At the University of Idaho, an outdated and nondescript building residing at one of the campus' main entry points was completely reimagined by the design team to serve as a headquarters hub for the medical education program. Every square foot of the structure was reorganized to maximize space for active learning opportunities and capitalize on views of the spectacular natural landscape, creating a welcoming community atmosphere. Flad also designed a gross anatomy lab nearby with complementary and highly flexible instructional space for the program. These transformations earned the project an INpublic honorable mention.
Congratulations to the project teams on these outstanding projects!
The Building Cure project was co-led by Flad (scientific workplace and research space) and Aedas (building exterior and interior public space) with construction management by Lease Crutcher Lewis and owner representation by Andrew Clapham & Associates.

Flad served as architect of record, planner, and interior designer for the WWAMI Medical Education Building and Anatomy Laboratory project.
2020 INAwards

Winning ProjectsSeattle Children's Research Institute

Building CureUniversity of Idaho

Huckabay Medical Education Building
February 04, 2021