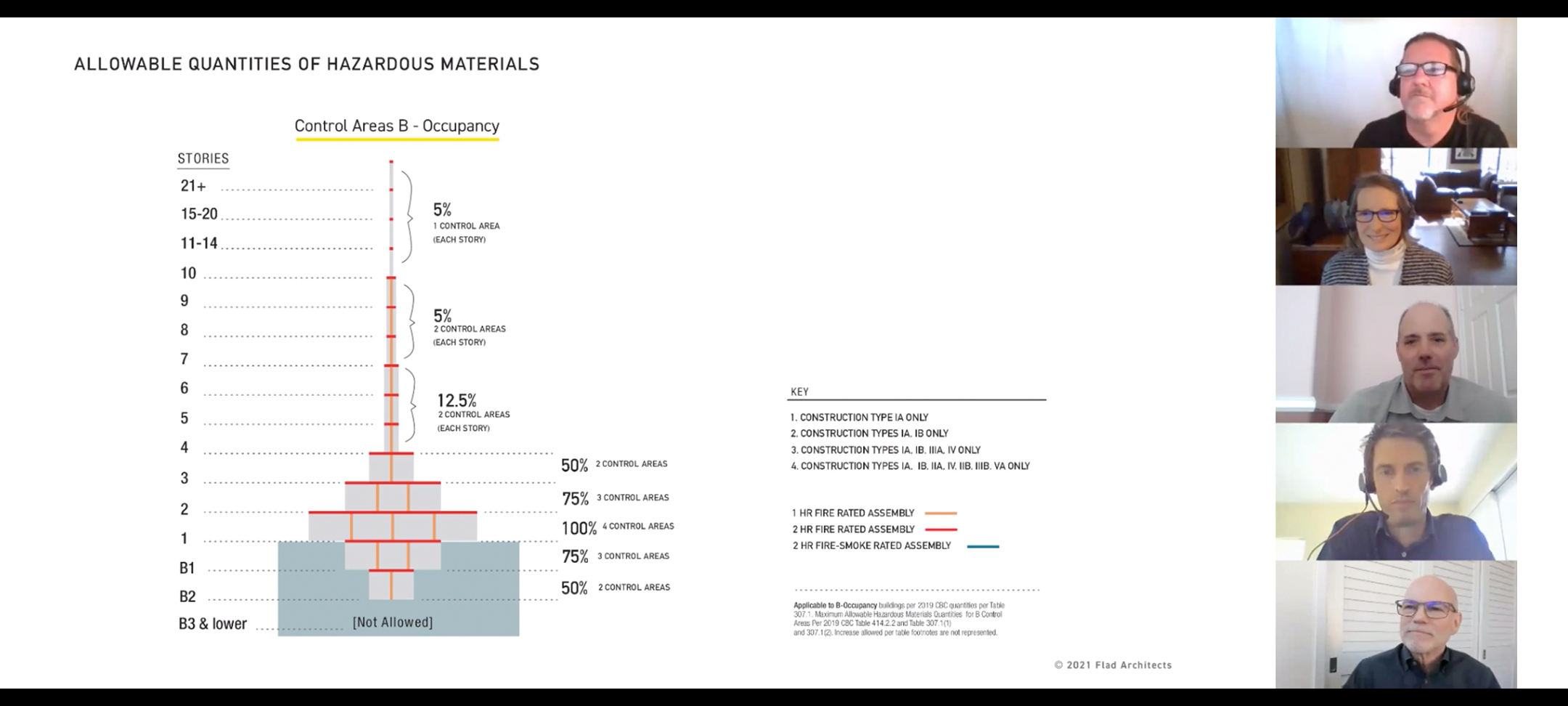 Flad Hosts Thought-Provoking Discussion with Industry Experts
Science in the Sky

: Designing high-rise platforms for advancing science
View the Webinar

Increasing global urbanization rates. Navigating densely populated urban typology. Advancing public health and reducing environmental impact. Paving a path for future scientific innovation and continued progress. These critical ideas dominated a recent virtual roundtable held on April 15 to explore the impacts and opportunities of high-rise building design for the purpose of advancing science.
Moderated by Flad Principal Joseph Marshall, panelists included Jared Byrne, Director of Master Planning Strategy at Amgen; Russ Drinker, Director of West Coast Science & Technology at Flad; Dr. Sylvia Darr, Principal at Flad; and James Falconer, Principal at Affiliated Engineers. As widely-recognized industry specialists in the planning and design of integrated laboratory facilities for life science research and education, Flad sought the opportunity to engage this group for a thought-provoking discussion exploring current best practices, key considerations, and emerging trends in designing and developing high-rise, technically advanced facilities capable of specialized operations in the fields of science, technology, and research.
Offering multidisciplinary insight across a broad range of perspectives, the panel identified key benefits, strategies, and opportunities for companies seeking to expand their urban footprint through effective high-rise facility design, including:
Navigating L-occupancy code requirements to optimize building efficiency, flexibility, and sustainability for enhanced operations and long-term success.
Balancing facility configuration and organization opportunities to maximize ground-level streetscape while maintaining security compliance.
Minimizing post-COVID space adaptations through flexible and proactive engineering design.
Enhancing user experience through health- and human-focused interior/exterior environments that promote connectivity and collaboration.
Reducing environmental impact through amenity densification.
During a time of historic scale when perhaps life science innovation has never been more important, our ability to design and successfully infuse effective, technically advanced high-rise facilities into the metropolitan landscape is an enormous opportunity for continued discovery that tackles the grand challenges of our time. We would like to express our sincere gratitude to the panelists for sharing their time, expertise, and deep enthusiasm for this topic with Flad and our event attendees. It is our hope that their collective passion and depth of urban planning expertise will inspire future project collaboration and spark new industry partnerships.