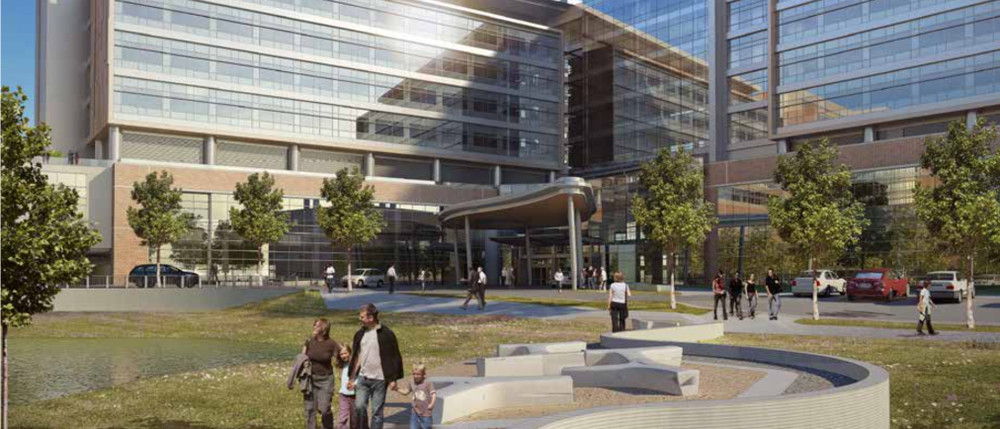 As the UF Health cardiovascular and neuromedicine hospital project takes shape facing its phase-one partner, the UF Health Shands Cancer Hospital, the contours of the master plan developed by UF and Flad a decade ago can be better appreciated. Constructed around a "Central Park" of lawns, gardens and water features, the two 500,000-square-foot buildings share more than simply a vernacular of materials and scale. Both were designed with a three-level base structure accommodating clinics on the ground level and terraces above, while a second-level shared surgery platform spans the drive into the new campus, linking with the cancer center and serving both bed towers. (Phase 2 will be completed in late 2017.)
This physical connection was intended to help integrate the medical specialties — in a significant though small way, given that neurology and cardiovascular will occupy separate floors of the new tower. It's one more step toward the cohesive vision put forward by the medical center to consolidate and align services that up until now were scattered across the existing campus. Combining outpatient and inpatient services only moves the hospital closer to its goals of greater collaboration and efficiency, something that more and more academic health centers are having to do in an increasingly competitive environment.
The practical result of the second-story surgical suite bridge under which vehicular and pedestrian traffic enters the campus is to make the buildings a gateway into the new medical park, which projects UF's strong and positive identity to patients, physicians and the wider world of academic health science.
August 10, 2016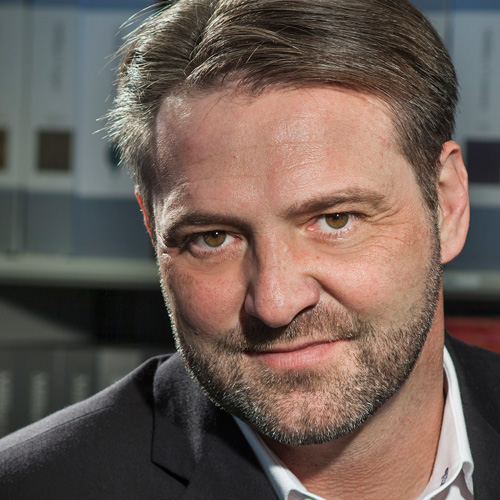 Jeff Raasch AIA, LEED AP, Principal, Flad Architects

So many health centers are cobbled together over time such that different departments are forced to find a way to come together and relate successfully to other departments. Neurology and cardiovascular are two distinct groups, but we were able to talk through their relationships, unique needs and ability to work side by side, and they came to a mutual agreement on the final arrangement of spaces. It was an opportunity for a fresh start for two departments with outstanding national reputations.
Jeff Raasch AIA, LEED AP, Principal, Flad Architects