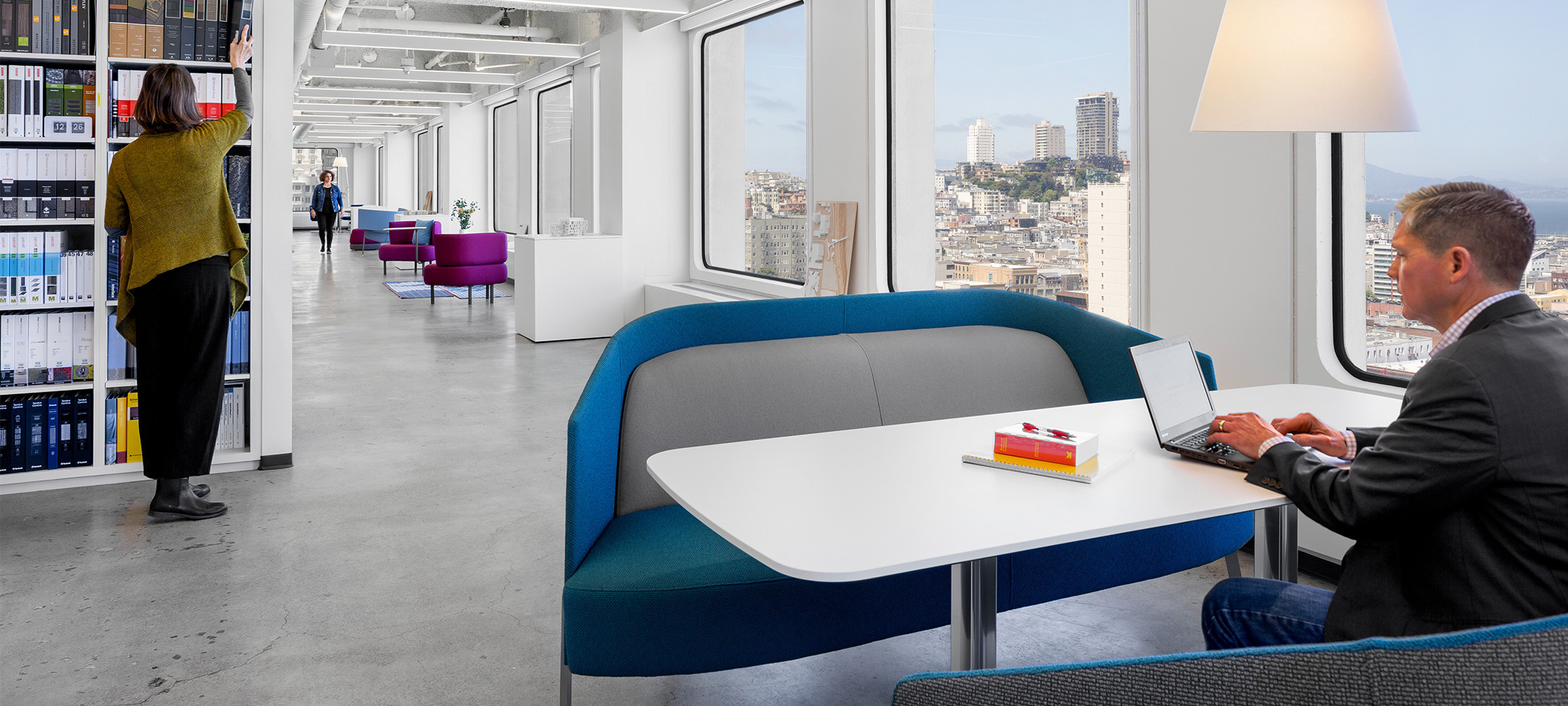 Flad SF adopts low-carbon, hybrid work environment with office hoteling
Like many organizations, hybrid work is a key component of Flad's return-to-office strategy. While our office layouts are designed to seamlessly integrate remote and in-person collaboration, with meeting rooms, huddle spaces, and individual workstations all enabled with videoconferencing and other collaboration tech, our growing San Francisco office began exploring a solution to maintain their current real estate footprint, even as staff numbers increased beyond workstation capacity.
Enter office hoteling – the middle ground between assigned workstations and fully open seating.
Office hoteling eliminates assigned seating in favor of allowing staff to reserve workstations, meeting rooms, and collaboration spaces prior to arrival. This encourages space optimization, enables enhanced flexibility for staff, and – importantly – allows companies to reduce energy consumption. For example, if an office's highest occupancy level on any given day is 60 percent, their current office footprint may be sufficient to accommodate a growing staff. Flad's approach of coupling a hybrid office environment with office hoteling allows us to actually reduce our real-estate and carbon footprint.
After surveying staff and evaluating several systems, we chose the desk and meeting room booking app, Robin Powered, to support hoteling and space utilization tracking. Employees can navigate living floor plans to book and check-in on the app. Because every day in the office can be different, this allows our team members the flexibility to define their day, select a workspace that supports their needs and comfort, and control decisions about how their day will flow – offering a seamless hybrid office experience and enhanced level of intentionality to time spent in-office versus working remotely.
The bottom line: leading by example is an important consideration to Flad and our clients. Andrew Cunningham, Flad Principal and San Francisco office lead explains, "We believe in leaving the lightest touch on the planet possible, and with workplace needs rapidly changing, our approach to a hybrid work environment with workspace hoteling allows us to imagine a new direction." As staff needs and firm strategies flex and change, Flad is able to nimbly adapt and fine-tune low-carbon solutions with rich space utilization data informing our path forward.
May 02, 2022