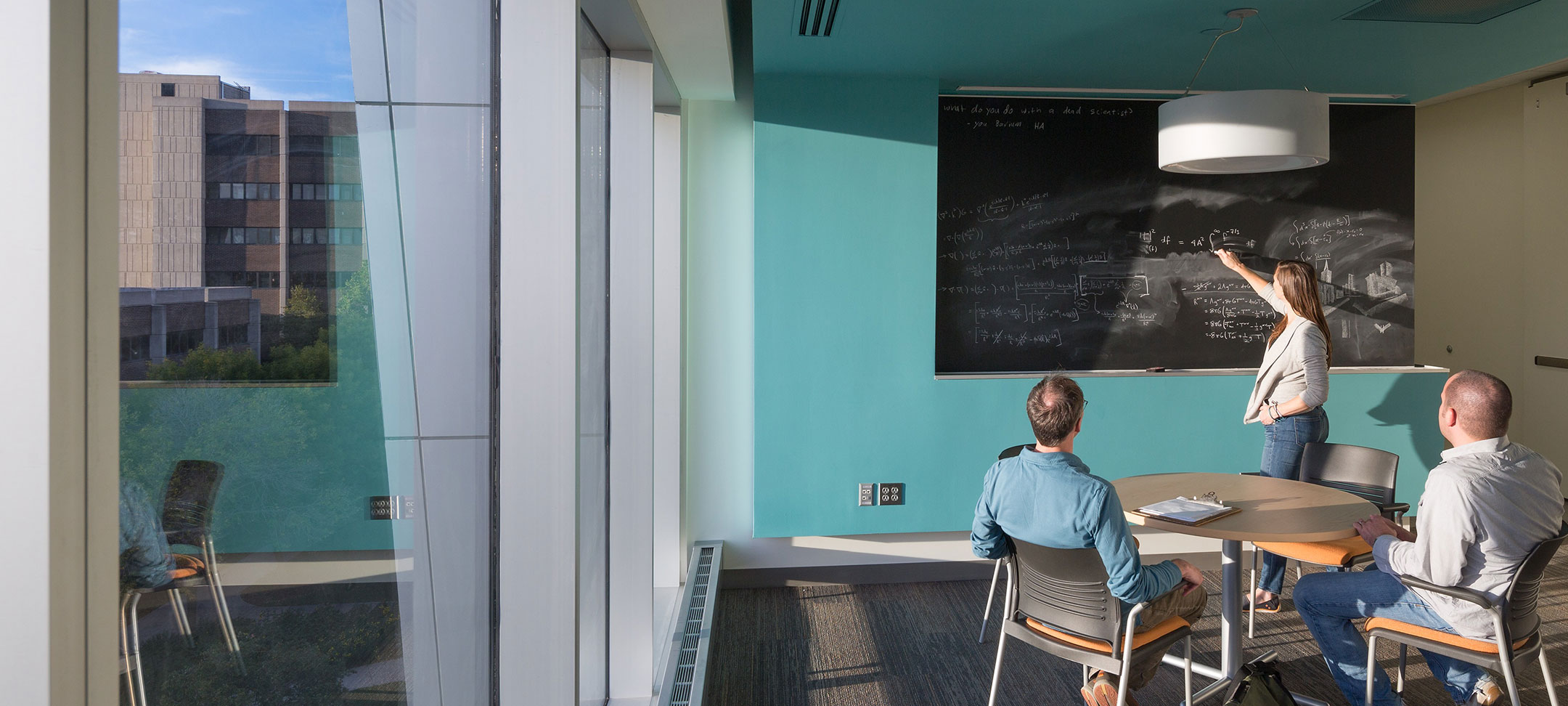 Tour of KIRC Will Be a Highlight of EDspaces 2019
Friday, October 25, 2019
11:30am-4:00pm
Milwaukee, WI
When EDspaces 2019 comes to Milwaukee in October, a highlight of the conference will be a tour of Flad's Kenwood Interdisciplinary Research Complex (KIRC). The 143,500-square-foot, five-story building establishes a modern, signature, and LEED Gold design in a gateway location – a vibrant hub that benefits the entire University of Wisconsin-Milwaukee community.
The anchor of a multi-phase initiative to build an interdisciplinary science quad, the KIRC houses active learning classrooms, labs that accommodate specialized research in numerous disciplines ranging from physics to biology to chemistry, and collaboration-friendly spaces throughout – all with an emphasis on a flexible design that can adapt as future instruction and research needs change. Along with meeting the primary goal of advancing the university's STEM education, research, collaboration, and outreach, the building takes advantage of every opportunity to incorporate student life into and around the facility, including serving as a robust pedestrian pathway. A loggia provides a covered walking path during warmer months, and the two-story lobby corridor is the main thoroughfare throughout the colder months, as well as a magnet for students throughout the school year.
The building's exterior expression of yellow terracotta, exposed concrete and metal panels is rendered as an assemblage of components, a metaphor for the research and innovation happening within. Dynamic and transparent, it offers ample views of interior movement in the lobby corridor and a communicating stair that links the third, fourth and fifth floors.
EDspaces' curated tours, which provide a real-world look at ideas in action, include an educational component, as each qualifies for AIA LU/HSW credit. Flad Principal David Black (project designer) and Associate Principal Mitch Fox (project architect) will be on hand for the tour, ready to answer questions about the KIRC.
University of Wisconsin - Milwaukee

Kenwood Interdisciplinary Research Complex