Flad Studies COVID-19 Impacts on Remote Work
As a result of the COVID-19 pandemic, most organizations in the United States transitioned to virtual working environments throughout March and April of 2020. As a leader in the planning and design of workplace environments, Flad Architects initiated a research study to better understand remote working impacts to our clients.
MethodologyA 19-question survey was developed by an interdisciplinary team of architects, interior designers, and researchers from Flad to qualitatively and quantitatively measure the experience of our clients within the Science & Technology, Academic, and Corporate Workplace sectors. Questions focused around themes of productivity, communication, and information technology.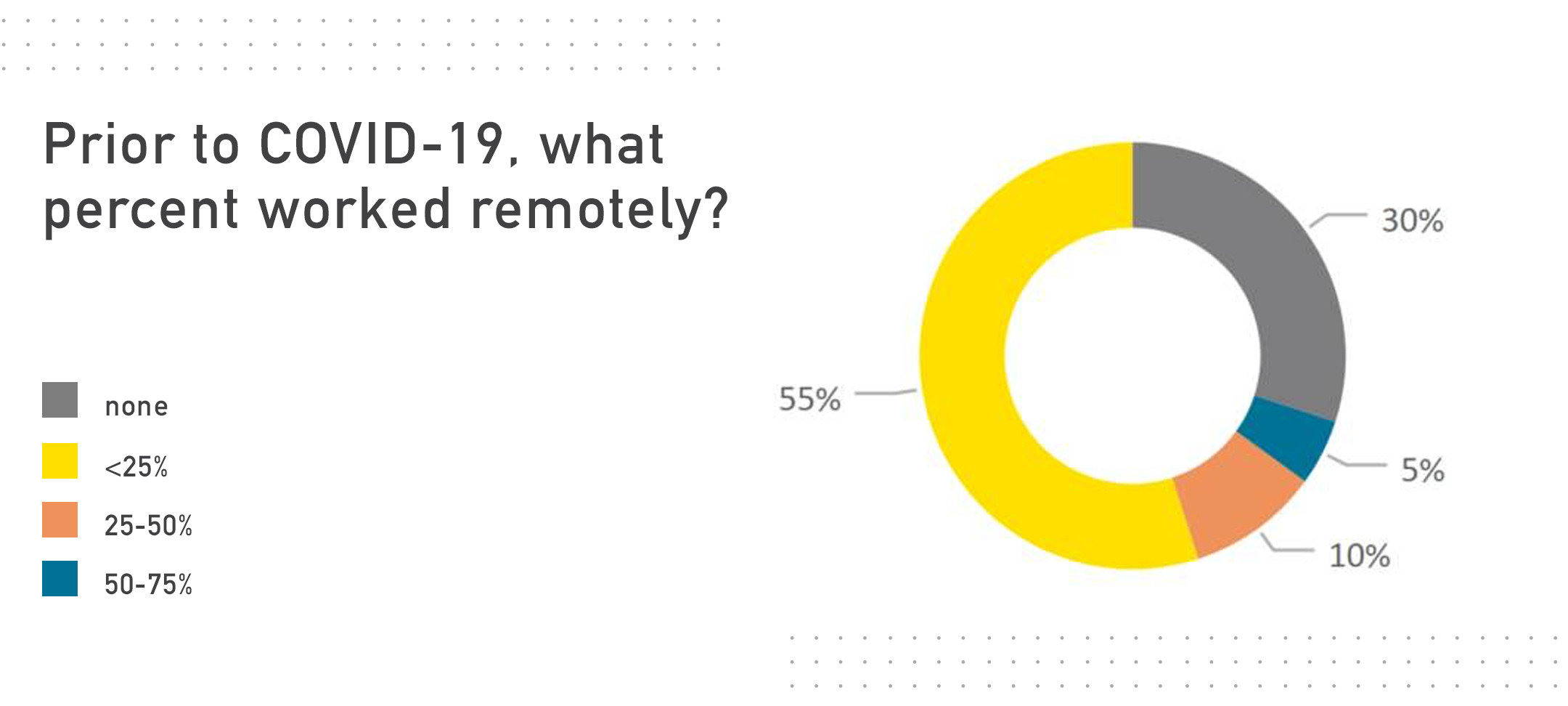 Summary of ResultsWhen asked to consider how the organization's overall productivity has been affected by a virtual environment, 52 percent of clients responded that their organization's overall productivity is the same or higher than pre-COVID. We asked participants to rate the impact that working from home has had on several aspects, and the statistics below represent the top impacts by rating:
Positive Impact: Employee Flexibility (61%), Travel Commute (90%)
Negative Impact: Morale (53%), Ergonomics (90%)
No Impact: Connection to Company Mission (70%), Accessibility of Management (62%),
Relationships with Clients (62%), Trust between Management and Employees (57%)
The top challenge, as reported by 11 organizations, was not feeling connected as a team. Top benefits, as reported by nine organizations, were the increased personal efficiency due to the ability for more focused work and decreased travel commute. When asked how communication methods have changed since transitioning to a remote working model, the percent of communications via email and phone stayed the same, while video conferencing increased from approximately 12 percent to 47 percent.

These findings give our clients great insight into pre- and post-COVID workflows and the various advantages and disadvantages of virtual work environments and the impacts on staff.

View the Full Dashboard

June 22, 2020