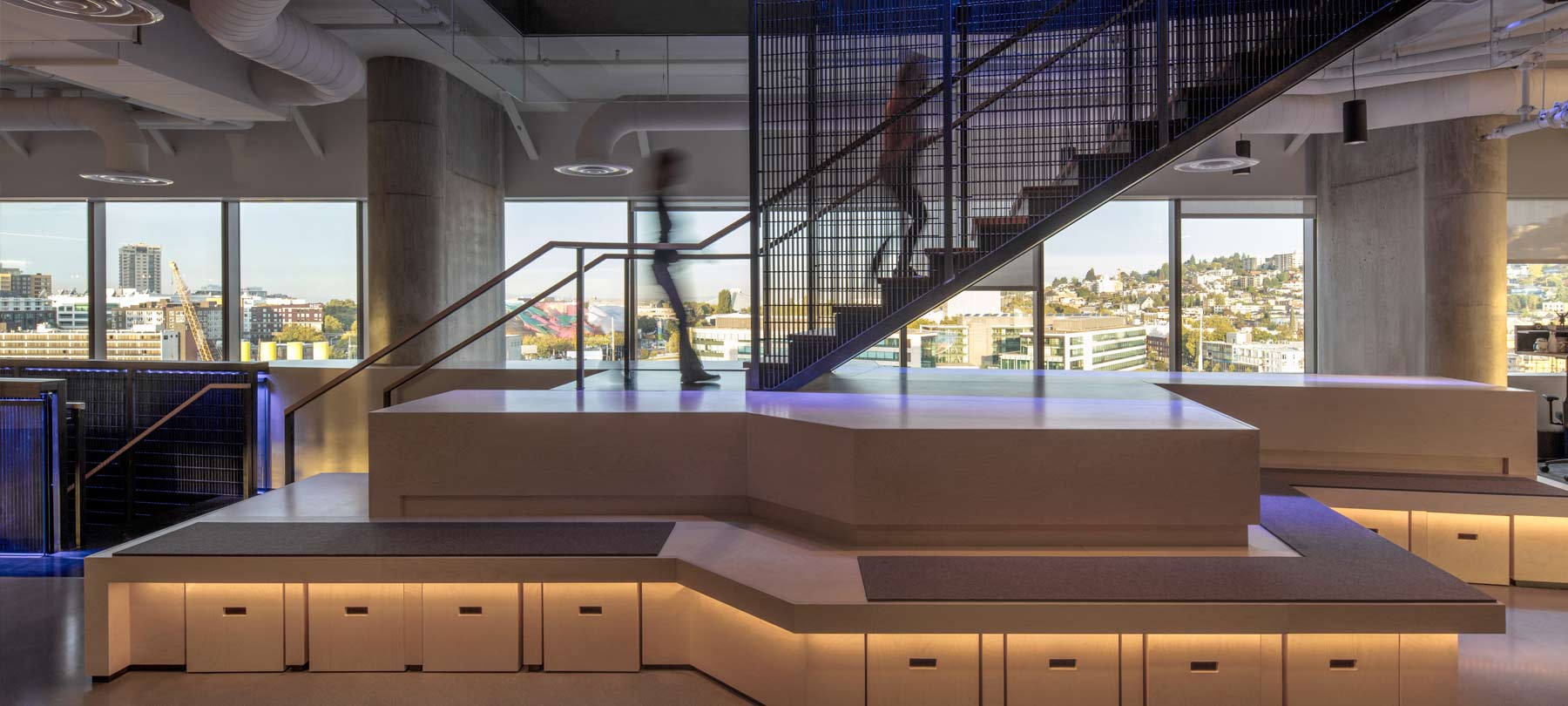 Juno Therapeutics, a Celgene Company, Honored for Interior Design Excellence
Flad's design of Juno's Scientific Workplace and Research Center has been presented with an INaward by the Northern Pacific chapter of IIDA, the International Interior Design Association. Flad and other winners in the 15th annual juried competition for interior design excellence and innovation were honored at a ceremony in Seattle on October 29.
The new headquarters and research center was born during a time of rapid expansion as Juno grew from a scientific pioneer (Juno engineers the cells within our immune system to eradicate cancer and other serious diseases) to a fully integrated biopharmaceutical company. The project was planned to reflect the Pacific Northwest region, home to the largest number of waterfalls in North America. A cascading stair, arguably the building's most critical design feature, provides a series of landing pools that draw people into unprompted social gatherings, as well as small eddies for rapid work sessions and moments of creative ideation.
The design team relied heavily on local and renewable sources for all materials, which ultimately celebrates the authentic nature of the client's culture, a sincerity that continues to flourish through the company's expansive growth. The soft, neutral palette is complemented with deeper shades of amber and blue found in the surrounding forests and nearby waterways. Whitewashed birch panels reflect the snow-tipped peaks of the Olympic and Cascade mountains, while felted wool accents act as an inviting character in a warm setting. Flad designed custom geometric community tables for the 12th floor community space with tabletops made from "Beetle Kill Pine," a beautiful and rich fallen timber (due to beetle infestation), the use of which helps mitigate deforestation and offers a stronger, more moisture-resistant surface.
Juno Therapeutics, a Bristol Myers Squibb Company

Scientific Workplace and Research Center
November 12, 2018