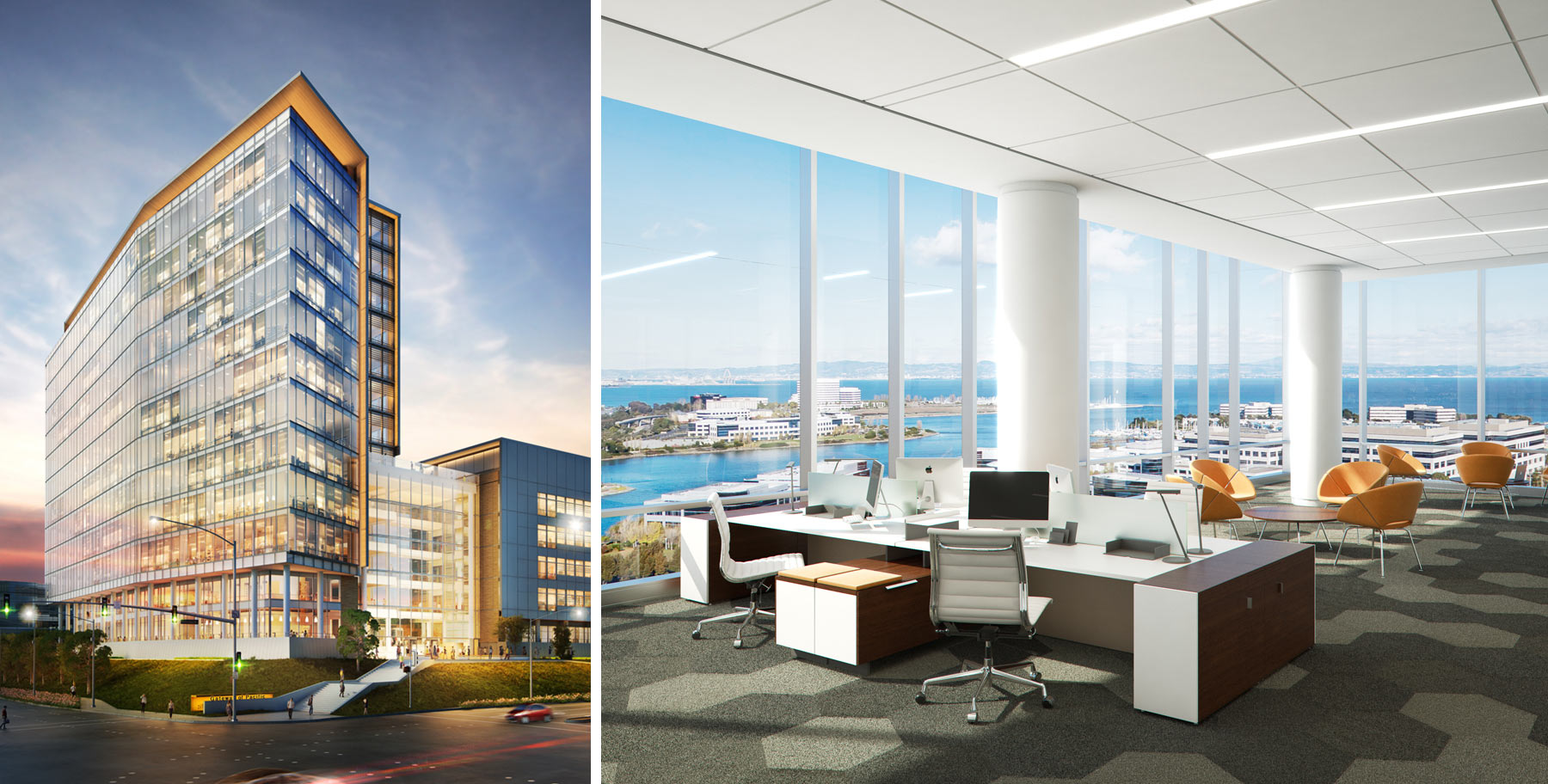 Gateway of Pacific
A Landmark Biotech Campus Breaks Ground
BioMed Realty Inc. has broken ground on a phased development of a prominent South San Francisco property. Gateway of Pacific introduces a new place for life science research and workplace innovation, and provides a framework for high-quality architecture and landscape in a highly sustainable and collaborative setting. Strongly shaped by local climate and the culture of discovery, Gateway of Pacific creates a new landmark that will transform South San Francisco.
This first phase includes a 12-story building that defines the intersection of Gateway and Oyster Point Boulevards as two separate wings joined by a five-story atrium. As part of this initial phase, an amenity building will be constructed over a two-level, below-grade parking structure that will serve the overall campus. An entry plaza over the parking structure will welcome visitors to the campus with mature landscaping and outdoor social spaces for dining and social gatherings.
The amenity building will activate the plaza with a planned café, restaurant, fitness facility and conference center. The building's vegetated roof is part of a compelling strategy for energy conservation that visibly showcases a key planning principle for the project – sustainable design. The buildings are designed to achieve LEED Platinum certification with sustainable features that include on-site energy generation from photovoltaic panels, rainwater capture, grey water collection, and a high-efficiency heating and cooling system.
When all phases are complete, the campus will promote the pedestrian experience through a central common, uninterrupted by vehicles and animated by dedicated outdoor areas. Planted with mature trees and native species, the park-like landscape will offer a variety of experiences – from highly social places for interaction to areas for quiet contemplation.
Gateway of Pacific

A Landmark Biotech CampusBioMed Realty

Gateway of Pacific, Phase I
August 01, 2017