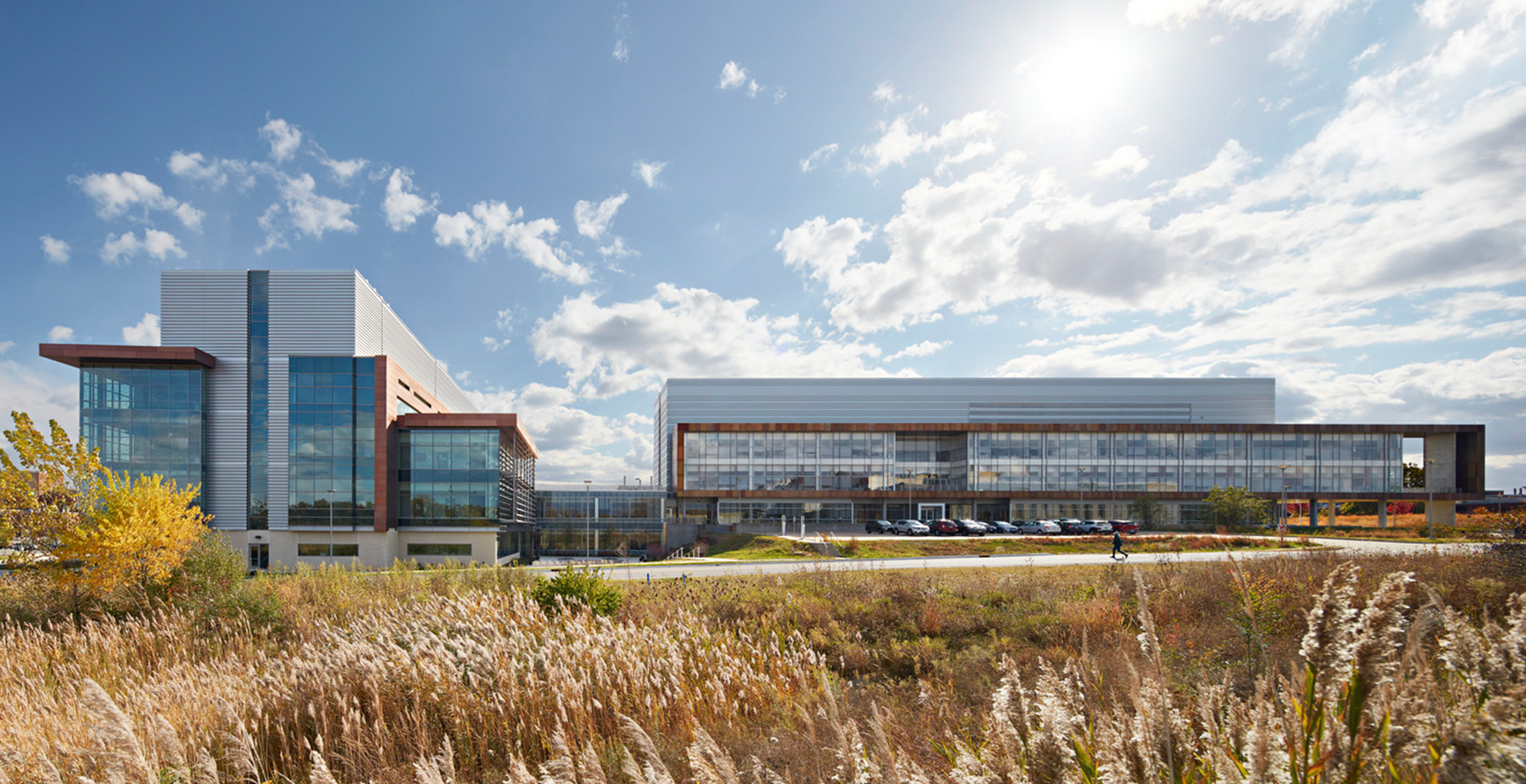 Two Flad Projects Honored with 2023 ASLA Awards
Two Flad projects – Sarasota Memorial Hospital-Venice and the Materials Design Laboratory (MDL) at Argonne National Laboratory – have been recognized by the Wisconsin Chapter of the American Society of Landscape Architects (ASLA) with 2023 Merit Awards. The awards were presented to the firm at the chapter's awards banquet, held in Madison.
Materials Design Laboratory >
The MDL completed the fourth and final phase of the research quad at Argonne National Laboratory. Flad's landscape architects sited the building, reorganized the vehicular circulation and parking, created a pedestrian spine with raised crosswalks to improve pedestrian safety, added a bus stop, and designed the courtyard and rooftop connections to allow easy pedestrian circulation throughout the quad. Surpassing jurisdictional requirements for stormwater and plantings to enhance naturalized spaces along the entrance to the MDL, the landscape design improved the native biota in the area, created a habitat for pollinators, and contributed to the MDL project achievement of LEED Gold certification
Learn more about the project

Sarasota Memorial Hospital-Venice >
Sarasota Memorial Hospital-Venice was conceived out of a need to extend top-ranked emergency and medical services to the rapidly expanding community in southern Sarasota County, Florida. Flad's landscape architects created campus design guidelines that encouraged the health, safety, and welfare of the populations served by the hospital and the natural environment. The guidelines focused on enhancing the patient and community experience; maximizing access to the natural environment in active and passive venues; and optimizing site layout for future flexibility, resiliency, and ecosystem preservation. Organized around a central courtyard with a landmark water feature, the campus features intuitive wayfinding, strong indoor/outdoor connections throughout facilities, and beautiful walking paths and outdoor amenities.
Learn more about the project

April 19, 2023