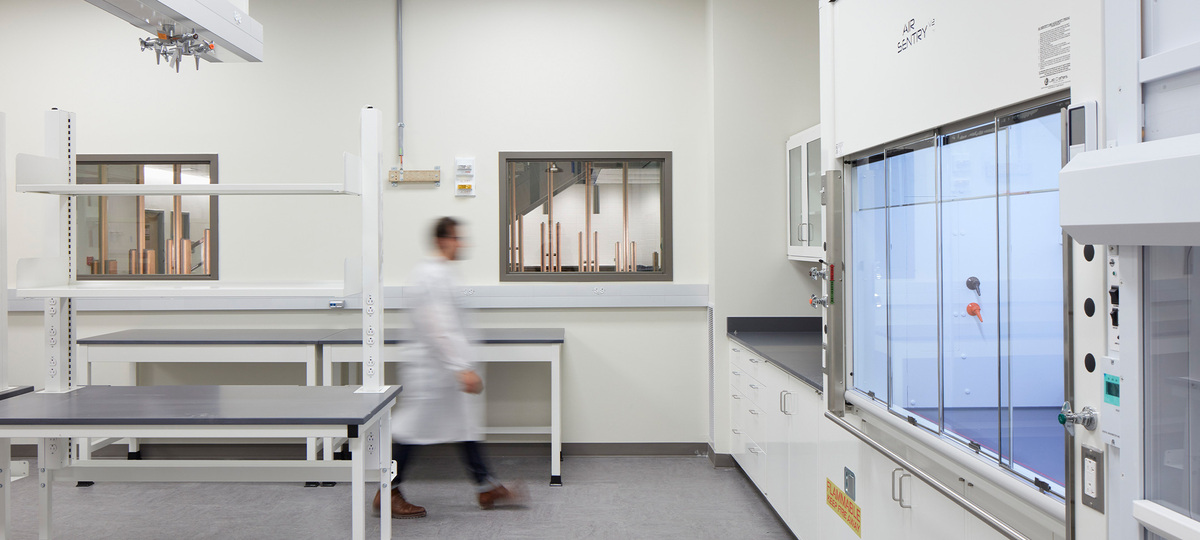 Materials Design Laboratory Wins Chicago Building Congress Merit Award
Flad is pleased to announce the Materials Design Laboratory (MDL) – Argonne National Laboratory's new, state-of-the-art energy research facility based in Lemont, Illinois – was recently honored in the Chicago Building Congress' (CBC) 2020 Virtual Merit Awards program as the category winner for Commercial Construction Over $50M category.
Celebrating the best in construction for over 60 years, the CBC Merit Awards program recognizes excellence in the built environment and outstanding projects throughout the Greater Chicago area. Consisting of nine award categories, the MDL project faced fierce competition in a carefully selected pool of five finalists.
Mike Finder, program manager at Argonne National Laboratory, responded during the virtual award ceremony by saying, "On behalf of the entire project team, I want to say it's quite an honor to be recognized as part of Chicago's tradition of building excellence. We're really proud to be part of that legacy…. I also want to thank our entire project team... for your relentless drive on this project, all the way back to 2010 until its completion last year; really remarkable."
Encompassing 124,000 square feet, the MDL provides high-performance, collaborative, and environmentally sustainable laboratories, offices, meeting rooms, interaction areas, and support functions for energy-related research and development. This distinguished award demonstrates a collective team effort spanning nearly ten years, culminating in an outstanding facility devoted to scientific discovery and innovations that promote global progress.
Congratulations to all team members who contributed to this effort.
Argonne National Laboratory

Materials Design Laboratory
October 29, 2020