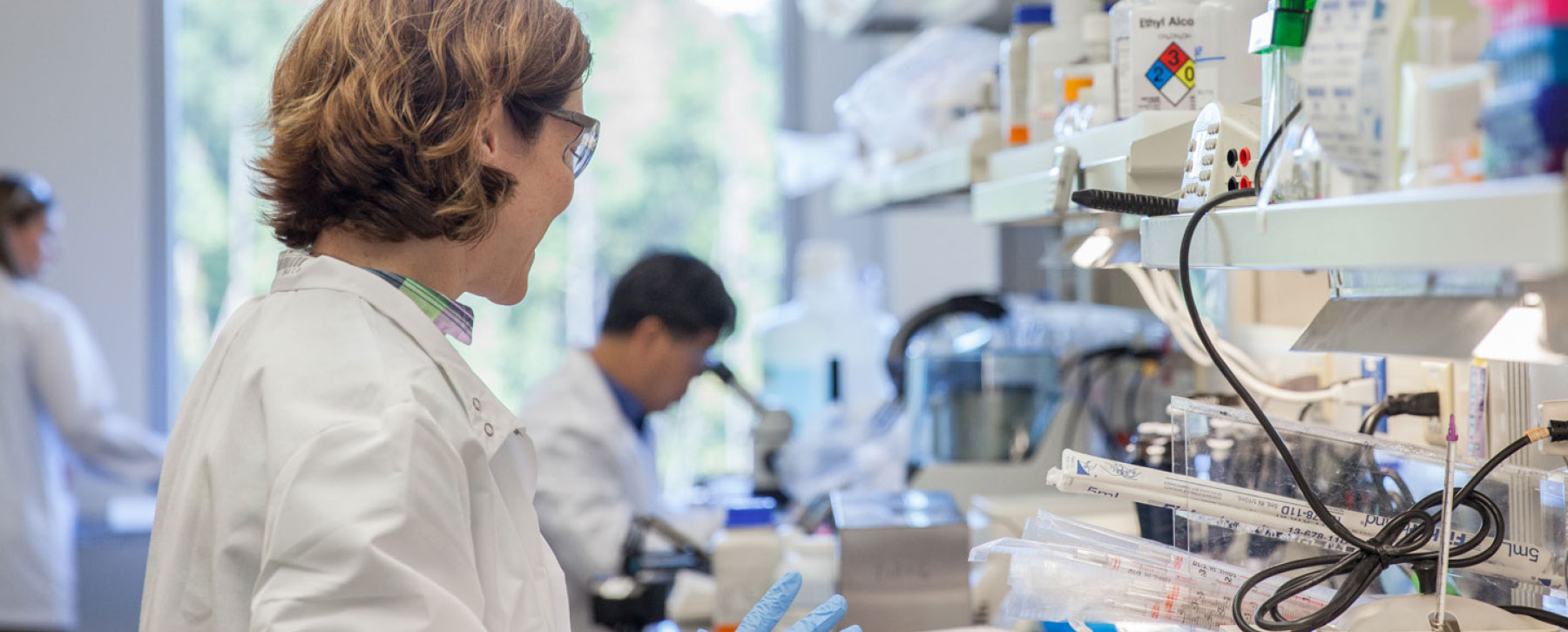 Research Lab Reinvention
Syngenta
As a foundational member of the agriculture biotechnology cluster that resides in Research Triangle Park, and as a center of excellence in North American research and development, Syngenta had grown to inhabit five different facilities and wanted to shift its various divisions to one site. Moreover, company leadership desired a fundamental change in the way its work was accomplished, both in the laboratory and administration areas. Flad's master plan for the company's 52-acre campus aligned physical space and phased development planning with its business strategy and made possible a collaborative corporate culture that focuses on innovation and discovery.
The phased opening of the RTP Innovation Center – a simple, lean, and highly adaptable building designed to harness the collective power of interdisciplinary research – represents a huge leap forward. Unifying all functions and promoting a single corporate culture, the Innovation Center is a catalyst for scientific interaction, reflecting the vitality of teams that reach across all aspects of the research and development chain.
Flad began the project with design of the 136,000-square-foot Advanced Crop Lab whose 32 state-of-the-art under-glass growing chambers offer the ability to control all environmental variables and precisely measure plant responses, enabling Syngenta researchers to more readily solve the agricultural challenges faced by growers worldwide. With support space provided for transplanting, pesticides preparation, seed processing, seed sampling, and bulk seed storage, and a media-prep suite that includes an Iso-6 clean room, mixing lab and environmental media storage areas, the Crop Lab is designed to accommodate BSL-3 research if required in the future.
Connected directly to the Crop Lab, the new 200,000-square-foot Innovation Center consists of a four-story laboratory wing and three-story administration wing, connected by a three-story atrium. The building's design employs a large, open laboratory floor, a departure from Syngenta's previous research environments, and is characterized by flexibility, with shared support pods embedded within the laboratory providing convenient access to frequently needed equipment. A "ribbon" of community space runs through the center of the complex, maximizing interaction and connection among science teams, administrative groups, and visiting partners. Both formal and informal collaborative areas of varying sizes throughout the atrium and both wings turn the entire site into a workplace, increasing opportunities for staff interaction.
Intended, also, to showcase R&D innovation, the building is designed around a tour path characterized by walls of glass so that activities inside the labs are on display to visitors without disturbing researchers or the work they are doing.
Syngenta

RTP Innovation CenterSyngenta

Advanced Crop Lab
March 10, 2017