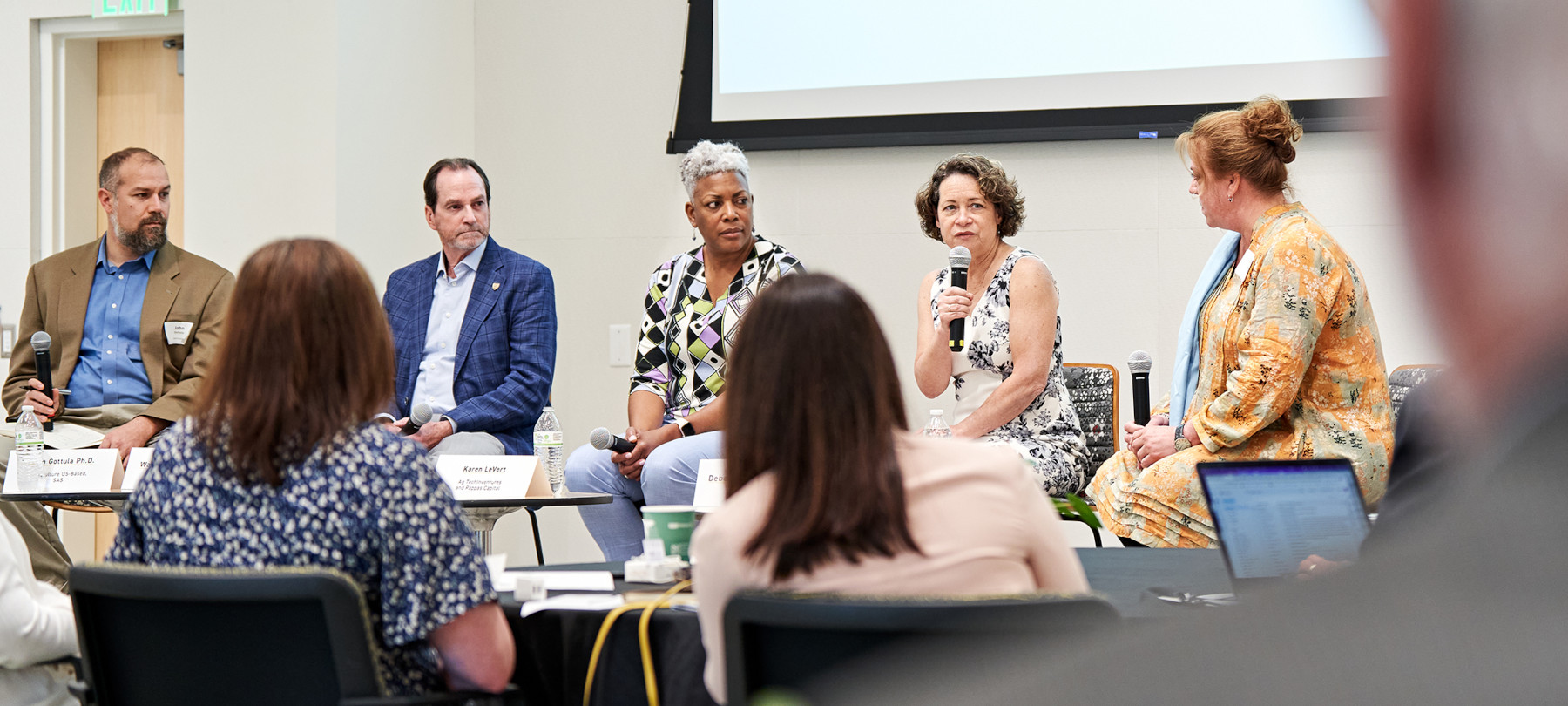 Symposium Hosts Ag Science Leaders from All Corners of Industry
Thirty of the nation's leading agriculture science experts gathered on the campus of North Carolina State University to share ideas and address the core agricultural challenges of today and tomorrow.
Knowing these challenges will require collaboration, the two-day symposium connected key industry leaders from academic, corporate, and government organizations for a unique opportunity to share ideas across these different sectors and advance the industry.
The event was co-hosted by NC State and Flad Architects, who collaborated to design the university's new state-of-the-art Plant Sciences Building, where the event was held. The facility houses the North Carolina Plant Sciences Initiative (N.C. PSI), which provides a physical hub for interdisciplinary public-private partnerships to advance the plant sciences for growers, consumers, and other food chain stakeholders.
Adrian Percy, Executive Director of the N.C. PSI, gave the keynote address and discussed how the N.C. PSI fosters a startup ecosystem that brings together students, researchers, and firms from across a wide range of disciplines to tackle the biggest challenges in agriculture.
For instance, an interdisciplinary team of NC State grad students is partnering with public and private organizations to create an app that will combine data from scanning images of hundreds of thousands of sweet potatoes with their growth conditions to improve decision-making for growers, producers, and distributors.
Brad Ringeisen is the Executive Director of the Innovative Genomics Institute (IGI) at UC Berkeley, founded by Nobel Laureate Jennifer Doudna. He spoke about the wide-ranging potential of gene-editing CRISPR technology with the goal of reaching net-zero farming. One of the many examples includes work to improve photosynthesis to capture more carbon, create deeper crop roots, and use soil microbes to store carbon longer.
On the topic of collaboration, Phil Taylor of Bayer Crop Science discussed pre-competitive open innovation and university partnerships. Using corn yields as an example, he discussed how innovation has allowed farmers to produce roughly three times as many plants per acre than 80 years ago and how similar innovations to improve efficiency and sustainability can help meet the needs of a growing planet and reduce the environmental impact.
Elliott Kellner was in attendance representing the Donald Danforth Plant Science Center, the world's largest nonprofit independent plant research institute. Among the topics he covered in his presentation was the Subterranean Influences on Nitrogen and Carbon (SINC) Center, which is working to develop technologies to decrease the use of nitrogen fertilizer without the loss of crop productivity.
In addition, a panel of experts discussed what it will take to solve the greatest ag science challenges, sharing their experience with converging expertise and perspectives as well as breakthrough innovations, and imagining the future of the industry.
As the speakers and panelists shared their unique perspectives and insights, a recurring theme during the invigorating daylong discussion was that no single person or industry can solve these grand challenges. From feeding a growing population to ensuring equity and sustainability, it is clear that we will need expertise and collaboration across industries and disciplines to move ideas to reality.
To access the presentations from the experts and view photos from the event, click the links below.
View presentations

View photo gallery

May 23, 2023